Letterman takes on Johan no-no
June, 5, 2012
6/05/12
12:31
AM ET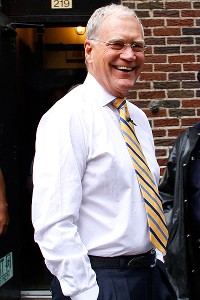 Donna Ward/Getty Images
David Letterman's Top 10 list Monday centered on Johan Santana's no-hitter.


Johan Santana
bailed on reading
David Letterman's
Top 10 list on the "Late Show," so Letterman did the honors himself, asking viewers to picture Santana delivering the list -- "Top 10 pitches Johan Santana used during his no-hitter."
"Originally he was going to do this list," Letterman told viewers. "But he had to catch a plane because they're on the road. So I said, 'Well, hell, I'll do the list.'
"So you're probably saying to yourself, 'Well, yeah, I could see where that would be funnier if it was actually the guy.' I'm just going to read them ..."
Letterman then went through a few blah entries during the countdown, including "No. 9, the Lucille Ball" and "No. 8, the Pulled-Pork Slider."
The kicker?
"And the No. 1 pitch Johan Santana used during his no-hitter: The Thank-God-There's-No-Instant-Replay ball."
Santana's intro music, "Smooth," then blared in Letterman's studio.