Shorthanded TC breaks down defeat
June, 6, 2012
6/06/12
12:54
AM ET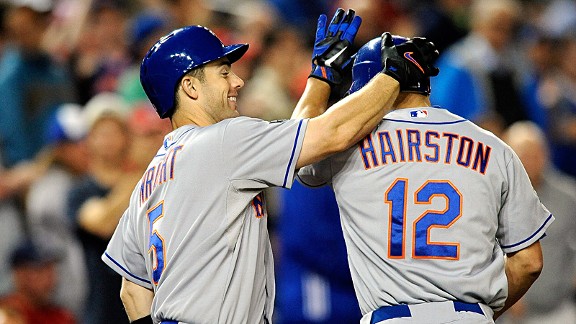 Patrick McDermott/Getty Images
David Wright congratulates Scott Hairston after Hairston's solo homer in the 12th, but the Mets could not protect the lead.
Terry Collins offered these insights after Tuesday's 7-6, 12-inning loss to the Washington Nationals.
On asking
Frank Francisco for a five-out save rather than using a Tim Byrdak-Bobby Parnell combo in the eighth:
"Bobby [Parnell]'s pitched back-to-back games. And we don't know what we've got tomorrow [with Jeremy Hefner starting]. We're a little short in the bullpen right now. One of the things I didn't want to do is if they tied the game to burn three pitchers in the course of an inning, or two-thirds, which would have happened if I started the [eighth] inning with Byrdie and then if I went to Bobby.
"And then you've got Frankie. If they tie the game, I'm out of pitching in the ninth inning. I said, 'You know what? Frankie, he's the one guy who hasn't pitched a lot lately,' so I thought I could get two innings out of him."
On whether he felt he had his hands tied as a manager by being short-handed with Jon Rauch in New York and six starting pitchers:
"Well, we've got [Miguel] Batista again tomorrow behind Hef. I won't use Elvin [Ramirez] tomorrow. But if I need to get an out, Bobby can get an out. We've still got Byrdie. And I'm sure Frank will be OK. He didn't throw that many."
On the loss:
"The toughest part is the way we fought back. You're down three. We fight back. We get the lead. We lose the lead. We get the lead. We lose the lead. We get the lead. And then to lose the game. That's really tough."
On whether the Mets need to bring in another shortstop, considering Jordany Valdespin committed two errors at the position -- a position Collins previously has said Valdespin is not really ready to play at the major league level:
"[Omar] Quintanilla's here. There is no such animal right now. We don't have any space to bring anybody else. Our roster is maxed out. We've created two spots today to get Chris [Young] on [with Batista]. We're just going to have to make sure [Valdespin] gets enough ground balls."
On keeping Elvin Ramirez in for the 12th, his second inning, while he struggled:
"He's got to pitch out of that inning. He's got to pitch that inning. We've got to try to save Hef if we can [for Wednesday]. Hef was going to come in the next inning if we would have got out of it. We'll just pick up the pieces and get them tomorrow."
On Ramirez, who walked one batter in 14 1/3 innings in Triple-A, walking the opposing pitcher and it being a sign of his being too amped up at the major league level:
"Oh, sure. That's what it was the other night when he came in the game. The more he goes out, the more comfortable he'll feel. You see the good arm. You saw the one inning. He's got an outstanding arm. He's got great stuff. And when he's around the plate, he's going to be very effective."