WASHINGTON -- One bright spot in Tuesday's 7-6, 12-inning loss to the Nats: Chris Young had a positive return from May 16, 2011 surgery to repair a torn anterior capsule in his right shoulder.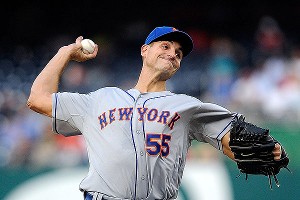 Patrick McDermott/Getty Images
Chris Young returned to the majors less than 13 months after shoulder surgery.
Young was charged with three runs (two earned) on six hits while walking one and striking out two in five innings. He threw 75 pitches.
"It was great," Young said. "Obviously it would have been better if we had won the game. But just being in competition and a big league environment, you can rehab all you want, but you can't prepare for these situations. So there's nothing like being out there. It was great. I felt like I got into a pretty good rhythm and felt good for the most part.
"I was just hoping I wouldn't get overly excited to where I throw the ball all over the place. I wanted to stay calm and hit my spots and work ahead in the count. And for the most part I did that. There was still a little bit of rust -- some pitches I didn't quite execute the way that I want to. There's room for improvement and I'll keep working at it. But, overall, from a health standpoint, it was great. Hopefully it will keep getting better."