WASHINGTON -- Omar Quintanilla's injured left index finger nearly forced him out of Thursday's lineup, which would have left the Mets scrambling at shortstop.
Quintanilla ultimately started, had two hits and reached base three times, while also making solid fielding plays. But the ex-Rockie said he is not out of the woods just yet with respect to the finger.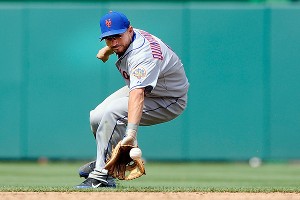 Patrick McDermott/Getty Images
Omar Quintanilla gutted through Thursday's win despite finger and then foot issues.Officially labeled a bruise by the team, Quintanilla said X-rays taken in D.C. before Thursday's game were inconclusive for a fracture. He will have more X-rays in New York on Friday, he indicated, to determine if a break exists.
The injury occurred on a diving attempt for a ball in shallow left field Wednesday night, when Quintanilla's index finger caught on teammate Kirk Nieuwenhuis' cleat and jammed.
"It didn't hurt too much," Quintanilla said. "As the game progressed, it got swollen and I could feel it a lot more."
As for today's test to see if he could play, he said: "I got some treatment on it, went in the cage and I could hit. So I told 'skip' I was ready to go."
Quintanilla, borderline comically, was hit in the right foot by Chien-Ming Wang in the shortstop's first plate appearance Thursday. He received a visit from the trainer at first base for that issue as well.
"They were like, 'Now you can take your mind off the finger and worry about the foot,'" Quintanilla said. "Actually, the foot lingered throughout the game. The finger was off and on. ... I couldn't really get a tight grip on the bat. I just kind of loosened up, and I went out there and grinded it out, and got the win. ... Hopefully it continues to get better."
Terry Collins was prepared to use Jordany Valdespin at shortstop Thursday had Quintanilla been unavailable. The manager floated calling up the likes of Sean Kazmar or Wilfredo Tovar in the event Quintanilla required a DL trip. Valdespin, in addition to not being a major league-ready shortstop, has leg issues that may be at least slightly affecting him. Both were wrapped postgame Thursday, even though Valdespin went unused.