Ike seeing light at end of tunnel?
June, 12, 2012
6/12/12
11:58
PM ET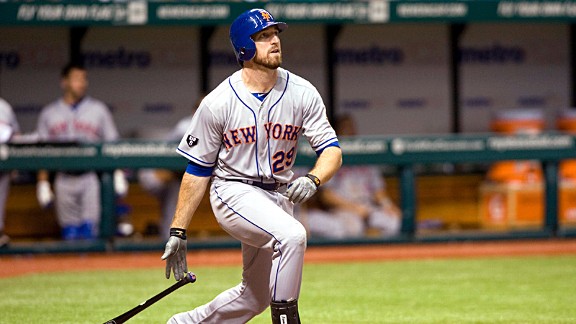 Jeff Griffith/US PresswireIke Davis on Tuesday produced his first homer since May 11.
ST. PETERSBURG, Fla. --
Ike Davis
showed minimal outward emotion as he delivered a three-run homer in the seventh inning Tuesday, a shot that helped spur an 11-2 win at Tampa Bay.
Inside?
"Obviously it's a great relief," Davis said. "Hitting a home run is a great feeling. Period. That's why a lot of people play the game. It's like a drug. Every time I get on base I feel, like, a relief. So it was nice."
Davis last had gone deep May 11, so the long ball snapped a string of 82 homerless at-bats. He had a bunt single down the third-base line in his first at-bat, so Davis (2-for-4, walk) had his first multi-hit game since May 9.
His average, still modest, now sits at .174.
Tuesday's performance comes on the heels of a game-tying double in the ninth inning Sunday at Yankee Stadium off the bench, suggesting maybe Davis is starting to climb out of a season-long funk.
"When you're not seeing it well and then you get your one pitch and you foul it back, then it's kind of like the at-bat is over," Davis said. "But right now I'm seeing it well, so if I foul a ball off, it's not like the end of the world like it was at the beginning of the year. I'm seeing the ball better. I'm not chasing out of the zone as much. I'm walking a lot more the last five or six games. That's a good sign."
Davis has sat against six of the last seven left-handed starters the Mets have faced, so it's entirely conceivable he will not start against southpaw
David Price
on Wednesday.
Terry Collins
was noncommittal after the game.
"I'm going to put some righties in there against David. He's pretty tough," Collins said. "But I was sitting there the other day thinking about our lineup. We're juggling, juggling, juggling. Everybody is trying to do something. I might try to think about making sure we get some regular guys in there on a daily basis."
Regardless, Davis appears to be showing enough to at least forestall losing his job when the Mets move back to National League play Friday against Cincinnati at Citi Field.
And if Davis remains the primary first baseman rather than
Lucas Duda
shifting there, that puts the crunch in the outfield, where
Jason Bay
,
Kirk Nieuwenhuis
, Duda,
Andres Torres
and
Scott Hairston
would be vying for playing time at three spots. Bay went 0-for-5 Tuesday and is now hitless in 16 at-bats since returning from the DL.
"As Ike continues to get out of this thing, we're starting to see some bright spots out of him," Collins said. "I think he's seeing the ball good. He got another base on balls tonight. I thought he had good swings. Hopefully we're moving forward."
As for his first-inning bunt, Davis said: "It's my first time this year trying to, at least. Thank god it stayed fair. I tried it a couple of times, I think, my first year [in 2010] and I bunted it foul. This is the first one that was fair. No one has really done the shift like they did today. And at this point I was like, 'It won't hurt.' So I gave it a shot. And it worked out."
Quipped Collins: "If he's that good a bunter, he should have bunted for a while. He'd be hitting about .275 right now."
There are no games scheduled for today.