Kirk Nieuwenhuis, lfOmar Quintanilla, ssDavid Wright, 3bLucas Duda, rfIke Davis, 1bDaniel Murphy, 2bJosh Thole, cAndres Torres, cfChris Young, ...
Here are the lineups for Sunday's 1:35 p.m. ET series finale between the New York Mets and Pittsburgh Pirates at PNC Park.
Sunday's New York Mets Morning Briefing goes back over Matt Harvey's rough outing and looks at David Wright's injury setback.
A look at the Mets' minor-league results.
With Eric Campbell in a slump and David Wright on the disabled list, Ruben Tejada will get a chance to start at third base for the New York Mets.
New York Mets pitcher Matt Harvey allowed a career-high seven runs in a career-low four innings.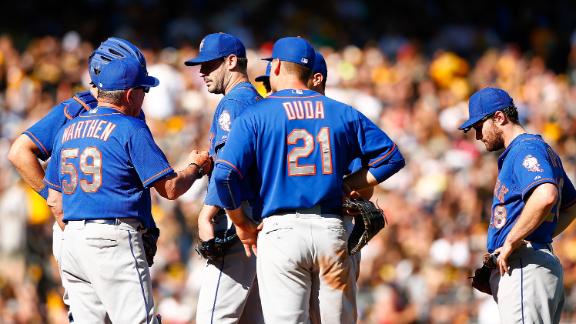 Mets starter Matt Harvey surrendered a career-high seven runs in a career-low four innings.
the New York Mets' No. 1 catcher is expected to begin a minor-league rehab assignment during the middle of next week.
Nieuwenhuis, 3 for 38 on the season, was designated for assignment on Tuesday.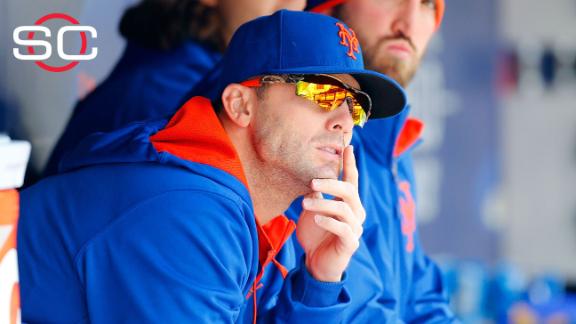 Mets captain David Wright's lower-back discomfort has resurfaced, indefinitely delaying his return from the disabled list.
The manager admits it will take a "sell job" to Matt Harvey and others.
Matt Harvey will put his streak of 16 scoreless innings on the line at Pittsburgh in a 4:05 start.
Matt Harvey has thrown 16 scoreless innings over his last two starts but has no wins to show for it. He'll try again Saturday.