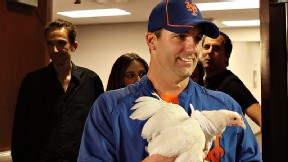 Getty Images
Little Jerry Seinfield (pictured with Tim Byrdak) has been replaced by a doll bearing the bird's likeness.CHICAGO -- Terry Collins said he is concerned about a letdown in the opener against the woeful Cubs, who enter the series at 24-48, including 3-16 against left-handed starters. The Mets did not land in the Windy City until 5:10 a.m. ET after playing on Sunday night, then getting delayed while trying to leave New York.
"Right now we have to focus on the job at hand, and that's not to have a letdown after all this," Collins said. "I'm really concerned about tonight because of the weekend series -- all the hoopla, all the excitement, all the adrenaline, and absolutely a brutal trip in here last night. Those guys, I'm sure, are absolutely out of gas today. We're going to see if we can rise the energy up a little bit.
"We sat 45 minutes at the airport, couldn't get to the plane. ... That's a long day."
• Daniel Murphy's '70s style mustache did not make the road trip.
• Tim Byrdak had a replacement for Little Jerry Seinfeld in his locker Monday at Wrigley Field. Byrdak had a stuffed chicken doll that plays "The Chicken Dance."
Said Collins: "He tried to make it hilarious, add some humor to it, to kind of back off the damage that the statement made. It's all over the country now."