Terry Collins said it is difficult finding spots to start Jordany Valdespin. But production will be rewarded. So Collins pledged to try to find a place for Valdespin to start Sunday, after the rookie homered for the second straight day against the Cubs in Saturday's 3-1 win.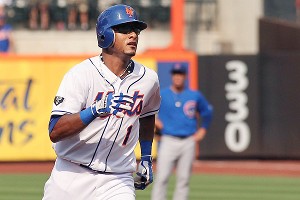 Anthony Gruppuso/US Presswire
Jordany Valdespin opened Saturday's scoring with a homer against Jeff Samardzija.
Ten of Valdespin's 17 hits this season are for extra bases, including four homers. He took Jeff Samardzija deep on a fastball to open Saturday's scoring, and said afterward about his plan: "I was looking for a fastball right there."
Valdespin was part of an all-homegrown starting lineup -- which the Mets have used only four times in franchise history, including twice this season. They are 4-0 in those games.
"Sandy [Alderson] has done a great job here, and will continue to do a great job here," Collins said. "But once in a while you reap the benefits of the people before you. Those people put together a pretty good minor league system, and we're seeing the benefits of it."