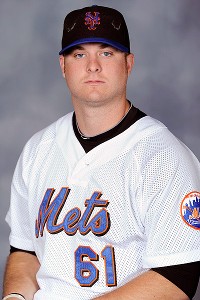 Courtesy of New York Mets
Josh Edgin
Left-handed reliever Josh Edgin will join the Mets for Friday's second-half opener in Atlanta, taking Dillon Gee's roster spot.
Edgin was 3-2 with a 3.89 ERA in 35 relief appearances with Triple-A Buffalo.
Not originally invited to major league camp in spring training, Edgin officially was added and ultimately tossed 10 1/3 scoreless Grapefruit League innings.
He hails from rural Three Springs, Pa. Where's that?
"To be honest with you, it's in the middle of nowhere," Edgin said last season. "It's about 45 minutes from the nearest Walmart. Have you ever heard of Chambersburg?
Read a June 27 ESPNNewYork.com feature on Edgin here as well as another from late last season.