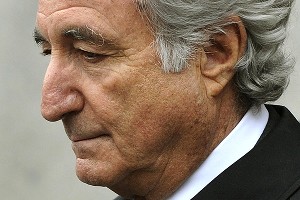 Timothy A. Clary/AFP/Getty Images
Bernard Madoff
PHOENIX -- The trustee recovering funds related to Bernard Madoff's Ponzi scheme announced Thursday in a U.S. Bankruptcy Court filing that he intends to disburse another $1.5 billion to $2.4 billion to victims.
And while Fred Wilpon and family will not see any of that money, the announcement does favorably benefit them.
As part of the settlement in the one-time $1 billion lawsuit against the Mets owners, their family, business and charities, the Wilpons agreed to return $162 million in false profits made from certain accounts in the six years before Madoff was shut down.
But the settlement also allowed the Wilpons to apply for $178 million as victims for losses from other funds they owned.
Trustee Irving Picard announced Thursday that he now has collected enough money to return no less than 46 to 50 cents on every dollar lost by recognized victims, which includes the Wilpons.
So the $162 million owed by the Wilpons already can be reduced by somewhere between $81.9 million and $89 million -- which represents 46 to 50 percent of the $178 million claim as victims.
That means when the Wilpons are on the hook for equal settlement payments in four and five years, each payment now should be no larger than $40 million. And that sum should continue to decrease as Picard continues to pursue funds from net winners in the Ponzi scheme.