Jon Niese surrendered four fourth-inning runs, then struck out looking the following inning to strand the bases loaded when Terry Collins opted to keep him in the game rather than pinch hit. The Mets ultimately lost to the Marlins, 4-2, Tuesday, in the opener to a six-game homestand.
The Mets, who had an 0-6 homestand before embarking on a three-city trip, now have lost eight straight at Citi Field. That is the team's longest home losing streak since also dropping eight straight at Shea Stadium in September 2007.
Chris Young (3-5, 4.22 ERA) tries to halt the swoon when he opposes former Dodgers right-hander Nathan Eovaldi (2-7, 4.66) at 7:10 tonight.
Wednesday's news reports:
• Sandy Alderson told ESPNNewYork.com's Andrew Marchand the organization has no current plans to release Jason Bay, although the GM reserved the right to revise his thinking at a later date. It was Alderson who took the unpopular Oliver Perez and Luis Castillo to camp in his first spring training as GM, only to eat the combined $18 million owed before Opening Day. Bay is owed $19 million next season, including a $3 million buyout of a 2014 option. (Bay's contract can vest at $17 million for '14 with 600 plate appearances next season, but there is no way the organization lets that happen.)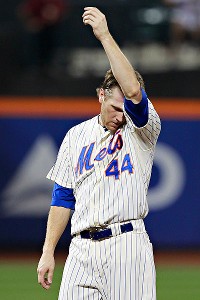 Mike Stobe/Getty Images
Jason Bay is resigned to significantly reduced playing time.
In the near term, Collins acknowledged Bay's playing time will now be drastically reduced, with the manager searching for favorable matchups. The Mets may see only one more southpaw on this homestand -- Atlanta's Paul Maholm (although Mike Minor is possible, too). Regardless, Mike Baxter and Jordany Valdespin should see the bulk of the action in left field this week. After going 1-for-4 Tuesday, Bay's average sits at .157. Bay acknowledged he has no leg to stand on in lobbying for more playing time. Read more in Newsday, the Post, Star-Ledger and Record.
• The Mets unveiled the logo for the 2013 All-Star Game, which will be held at Citi Field. Read more in the Daily News.
• Collins acknowledged Tim Byrdak's extreme usage likely was a significant factor in the left-hander suffering a career-threatening torn anterior capsule in his left shoulder. That injury prompted Johan Santana and Chris Young to undergo surgery, and in Santana's case sidelined him a full season. Byrdak, who turns 39 in October, still has an MLB-high 56 relief appearances, even though he was placed on the DL before the weekend. The Mets in recent years primarily have depended upon one lefty reliever rather than a sharing of the workload. Before Byrdak, Pedro Feliciano set franchise records with 86, 88 and 92 appearances in consecutive seasons. That workload caught up with Feliciano's shoulder shortly after he signed an ill-fated two-year, $8 million deal with the Yankees. Read more in the Times, Star-Ledger, Record, Daily News and Newsday.
• Santana, who tossed three innings for Brooklyn on Sunday, reiterated he is ready to return from the disabled list and face the Atlanta Braves on Saturday. The southpaw plans to throw his typical between-starts bullpen session at Citi Field today. Rookie Matt Harvey will handle Friday's series opener on standard rest. Read more in the Post.
• The Mets demoted rookie Elvin Ramirez to Triple-A Buffalo to open the roster spot for the promotion of southpaw Garrett Olson. Dillon Gee, who is recovering from surgery to repair an artery in his pitching shoulder and unlikely to return this season, was transferred to the 60-day DL to open a 40-man roster spot for Olson.
• Rafael Montero tossed 7 2/3 no-hit innings for St. Lucie before being lifted with the bid intact because his pitch count reached 110. Kyle Allen then surrendered a leadoff double in the ninth and the Florida State League club settled for a one-hitter in a 9-1 win against the Palm Beach Cardinals. Read Tuesday's full minor league recap here.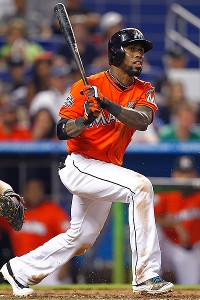 Sarah Glenn/Getty Images
Jose Reyes extended his hitting streak to a career-high 25 games Tuesday.
• In his second visit to Citi Field, Jose Reyes was greeted with jeers, then extended his hitting streak to a career-high 25 games with a disputed infield single. Ruben Tejada extended his hitting streak to a career-high 12 games. Reyes' streak matches the longest by a player after leaving the Mets, joining Jeff Kent (2004 Astros), according to the Elias Sports Bureau.
Reyes told Evan Korn in Newsday he was not disconsolate about the Marlins' fire sale, which included shipping Hanley Ramirez to the Dodgers. "No, it didn't get me frustrated at all because, like I said, my job here is to play baseball," Reyes told Korn. "The other stuff, I can't control. They brought me here to play Jose Reyes' game, and that's what I've been doing."
Writes columnist Jeff Bradley in the Star-Ledger:
It wasn't supposed to be this way. With new colors, a new stadium and a new cast of players led by Reyes, the Marlins were going to make things interesting in the National League East. Their decision to name [Ozzie] Guillen as their manager as their first move spoke volumes. This team was going to be brash and bold. And, looking back, who could've argued with Reyes decision to join Guillen? Especially when the Marlins continued to spend, signing Mark Buehrle to start and Heath Bell to close. And when shortstop Hanley Ramirez agreed to move to third base and clear the way for Reyes? It all seemed legitimate. Not how it's turned out. "Very bad, very sad, very disappointed," Guillen said of the season. "And very embarrassed. And I will take all the blame.
Read more on Reyes and Tejada in the Post, Palm Beach Post, Daily News and Record.
• Read Tuesday's game recaps in the Times, Miami Herald, Newsday and Daily News.
• An off-duty New York City police officer pleaded guilty to disregarding Citi Field security officers' orders and occupying an area for which he did not have a ticket, Newsday reported.
• MLB, along with the other major sports leagues and the NCAA, filed a lawsuit in federal court Tuesday trying to block sports betting in New Jersey, according to the Star-Ledger.
• Bobby Parnell's velocity sagged to the upper-80s early in his relief appearance, prompting a mound visit. Parnell then restored his normal velocity.
TRIVIA: In what year did Reyes start 20 games as the No. 3 hitter for the Mets?
Tuesday's answer: Niese dropped to 1-5 in his career against the Marlins. The .167 winning percentage is his worst against any National League club.