The mystery of Mr. Met solved -- sort of
August, 9, 2012
8/09/12
12:27
PM ET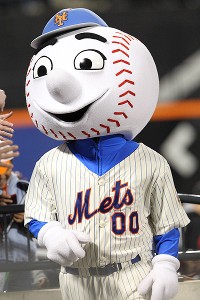 Anthony Gruppuso/US Presswire
Mr. Met's origins have been partly discovered.

Who came up with the original idea for beloved mascot Mr. Met?
ESPN.com's
Paul Lukas
investigates and finds an interesting answer.
We challenge you not to click on every link in
this piece
.
ABOUT THIS BLOG
Adam Rubin

Adam Rubin has covered the Mets since 2003. He's a graduate of Mepham High School on Long Island and the Wharton School of the University of Pennsylvania. He joined ESPNNewYork after spending 10 years at the New York Daily News.
Mark Simon

Mark Simon is ESPN Stats & Information's Baseball Research Specialist. One of several Mets historians working at ESPN, he joined the Worldwide Leader in 2002 after 6 1/2 years as a sports writer at the Trenton Times.
Email Mark » Follow Mark on Twitter »
AdamRubinESPN Adam Rubin
Press release: http://t.co/PiXZtl94oN
7 minutes ago

AdamRubinESPN Adam Rubin
Well. apparently Mookie and Bucker are separately on 12/9. I'm going to show you the press release, and you tell me if I misread ...
9 minutes ago

AdamRubinESPN Adam Rubin
Buckner signs any items for $29 ($10 inscription); Mookie signs any item for $25 ($10 inscription); and a Buckner/Wilson combo item is $50.
12 minutes ago

AdamRubinESPN Adam Rubin
Gooden free with any other autograph, and $25 for a second autograph ($10 for inscriptions).
13 minutes ago

AdamRubinESPN Adam Rubin
Autograph $ at appearance: Harvey baseballs and flats for $99 and equipment for $149 ($50 for inscriptions); deGrom $59 ($29 per inscription
13 minutes ago

AdamRubinESPN Adam Rubin
And as long as we're shilling today, Harvey, deGrom, Gooden, Mookie & Bucker will appear at Steiner Store at Roosevelt Field 12/3 6:30-8 PM.
16 minutes ago

AdamRubinESPN Adam Rubin
At risk of overexposure I'll also be talking #Mets as part of Queens Baseball Convention 1/10. Q&A with Wally Backman http://t.co/JmcnFgwhNz
18 minutes ago

AdamRubinESPN Adam Rubin
I'll be part of a panel talking #Mets at B.B. King's in Manhattan on Jan. 14. Details here: http://t.co/0Kxyt0NKGp
24 minutes ago

AdamRubinESPN Adam Rubin
Michael Cuddyer will appear on @ESPNNY98_7FM at 2:30 p.m. ET. Listen live online here: http://t.co/UHpjPQwlYG #mets
28 minutes ago

AdamRubinESPN Adam Rubin
Single-game tickets now on sale http://t.co/5128Q8Ch5r #NYM #Mets
about an hour ago

AdamRubinESPN Adam Rubin
He'll get chances but need to plan in case unable to handle them. MT @a1000watts: I thought mets planned to start duda vs lefties this year?
about 2 hours ago

AdamRubinESPN Adam Rubin
Reliever Greg Burke, with #Mets organization in 2013, signs with #BlueJays. Minor-league deal with big-league invitre.
about 4 hours ago

AdamRubinESPN Adam Rubin
Anyway, Anthony DiComo is back from Japan and getting cranky with his Twitter feed getting clogged up, so let's call it a night.
about 12 hours ago

AdamRubinESPN Adam Rubin
Or keep both, and Familia and Vic Black, and actually have a good bullpen. RT @john_d0e22: How about trade Parnell and keep Mejia at closer.
about 12 hours ago

AdamRubinESPN Adam Rubin
Believe so, with Steven Matz debuting sometime in season MT @ronmarz: Mets content going into season with 5 RHP if that's how it shakes out?
about 12 hours ago

AdamRubinESPN Adam Rubin
Believe "garden" will be final answer. RT @TDK120Era: 1 word for what to do the extra space behind the RCF fence: SlipNSlide.. no?
about 12 hours ago

AdamRubinESPN Adam Rubin
Same role. Late-inning relief if needed, but multi-innings/spot starter. RT @mscott_16: where would Carlos Torres fit in the pen next season
about 12 hours ago

AdamRubinESPN Adam Rubin
Maybe serving as spot starter for Matt Harvey early in season. No pressure intro RT @josh_gabriel: When do we see Syndergaard in the majors?
about 12 hours ago

AdamRubinESPN Adam Rubin
Do you still cover the Mets? RT @AnthonyDiComo: @AdamRubinESPN Dude, go to bed.
about 12 hours ago

AdamRubinESPN Adam Rubin
Unless they're low-balled, they'd like to trade one pre-spring training. RT @HySpiritsC: Chances mets trade niese or gee?
about 12 hours ago
BLOG ARCHIVE:
CATEGORIES:
2014 NATIONAL LEAGUE EAST STANDINGS