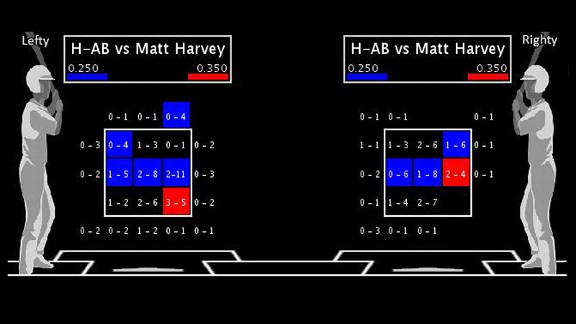 Matt Harvey has dominated both left- and right-handed hitters this season.
Harvey and the history books
Matt Harvey owns the Mets' record for most strikeouts in his first six career appearances with 43. What does he need to own the record through seven games?
It will take eight whiffs to catch and nine whiffs to pass Dwight Gooden, who had 51 strikeouts in his first seven games in 1984, notching 11 in a four-hit shutout of the Dodgers in his seventh major-league start.
Harvey and playing to his strengths
In his last start against the Rockies, Harvey got back to throwing the high fastball. Of the 78 heaters he threw, 41 of them were in the upper-third of the strike zone or above.
That was his highest rate of pitches to that area (53 percent) since his debut against the Diamondbacks on July 26 (64 percent).
That pitch has also allowed him to work his breaking ball (curve to lefties, slider to righties) effectively. Those two pitches have netted him 38 outs and yielded only five baserunners.
The combination of pitches has made Harvey very, very tough with two strikes. Opponents are hitting .085 (6-for-71, 43 strikeouts, 10 walks) in two-strike counts. Righties are 1-for-28 (five walks).
Harvey and Howard
Harvey has a few more weapons than Chris Young with regards to trying to get a hitter like Ryan Howard out.
A fair warning to Harvey: Throwing a fastball to Howard, even 93 miles-per-hour and above, can be a bit dicey. Howard is gettable when it is located properly.
His vulnerable area is upper-half, outer-half, where he's missed on 10 of his last 19 swings at offerings that fast from righties. But he's also clubbed a pair of home runs on pitches of that speed.
Similarly, Harvey's curveball is a diceroll. Over the last three seasons, few hitters have missed more often at swings at a righty curveball than Howard (44 percent). But when Howard gets a hanger, he clobbers it. He's 26-for-54 over the last three seasons when he hits a curve from a righty.
Harvey and the defense
As they have done consistently the last couple of years, the Mets will probably shift a few of the Phillies left-handed hitters.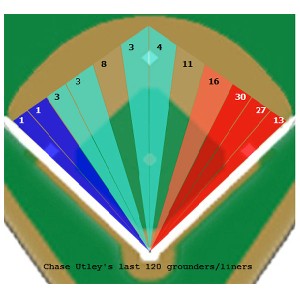 Baseball Info Solutions
Where Chase Utley tends to hit his
grounders and short line drives.
(Red=area where balls most likely hit)
When they do so, they will be guided by charts like the one on the right on Chase Utley.
These diagrams show the area of the field where the ball is most likely to be hit (it can be broken down, if needed into more specific details, such as when facing a righty or lefty).
Utley rates as a high-end candidate for shifting regardless of who he faces, because 88 percent of his last 120 ground balls and short line drives (gauged by video review) have been to the right of second base.
The Mets have done well defending Utley's ground balls the last three seasons, turning 32 of the 37 hit into at least one out.
Though Utley is a pull hitter when he hits the ball on the ground, his fly-ball tendency is to hit the ball from right-center field to the left field line, so the Mets will likely adjust their outfield defense for him as well.
Harvey the hitter
It will be interesting to see how Tyler Cloyd pitches to Harvey, who is 5-for-11 with two doubles in his brief career.
Harvey was probably itching to face Hamels. Harvey has swung at 10 pitches from lefties and missed none, fouling off five and putting five into play, four for hits. He's 1-for-6 against right-handed pitching.
The strategy for Cloyd would seem to be to work the edges. Four of Harvey's five hits this season have come against pitches over the middle-third of the plate.