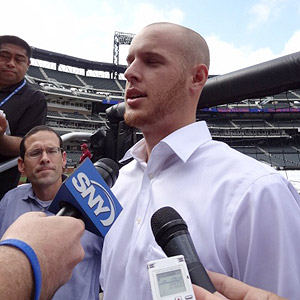 Adam Rubin
Zack Wheeler is spending the weekend at Citi Field.
Sandy Alderson already has suggested top prospect Zack Wheeler is unlikely to make the Opening Day rotation next season. The preferred plan is for Wheeler, like Matt Harvey this season, to open 2013 in Triple-A and break into the majors during the summer.
Still, Terry Collins noted Saturday, there are no absolutes.
"When you're looking six months away, we can't say he's not going to make the team," Collins said. "We don't know what's going to happen. He's going to come into camp and be given the ball like everybody else. Right now, yeah, as we sat here today, the chances are slim. But you can't say he won't. There's no definites."
Said Wheeler: "It's sort of a long shot, but I just want to push myself and try to get that job."
Wheeler attended Friday and Saturday's games at Citi Field along with other top Mets farmhands. He was named the organization's top performer at Double-A Binghamton this season.
Wheeler made 19 starts for the B-Mets, then six at Triple-A. He went a combined 12-8 with a 3.26 ERA. Wheeler allowed 115 hits and 59 walks while striking out 148 in 149 innings.
"I was happy about it," Wheeler said about the season, his first full year in the Mets organization. "I worked hard [last] offseason to get my offspeed pitches up to par, throwing them for strikes and throwing them as quality pitches. I think it helped out a lot. I was able to go deeper into games. I struggled a little bit when I went up to Triple-A -- little stuff, just making adjustments. But, overall, I think I had a good year."
How far away does he feel he is from the majors?
"I still have some work to do," Wheeler said. "I've got to just work on the mental part a little bit more."