WHAT IT MEANS: The Mets lost. And fans had to wait through a 75-minute rain delay to watch the unsightly resolution -- an 11-3 defeat against the Atlanta Braves on Saturday afternoon at Citi Field.
Jeremy Hefner was chased during a four-run third inning by the Braves in the shortest start by a Met since Johan Santana recorded only four outs on Aug. 11, also against Atlanta at Citi Field.
Since opening the season series with four straight wins, the Mets have lost nine of 10 against the Braves.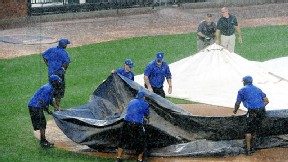 Kathy Kmonicek/Associated Press
Rain delayed the game 75 minutes before the start of the seventh inning.
The damage against Hefner during the third: Freddie Freeman snapped an 0-for-16 drought with an RBI single. Brian McCann produced a two-run double -- his first extra-base hit since July 31. And opposing pitcher Kris Medlen delivered an RBI double that gave Atlanta a 5-0 lead and ended Hefner's outing after 2 2/3 innings.
McCann added a two-run homer in the fifth against Robert Carson and matched his career high with four hits.
KING OF THE HILL: The Braves won the 19th straight game started by Medlen, the longest streak in the majors since the Yankees won 20 straight starts by Roger Clemens in 2000.
Medlen went 40 1/3 innings without surrendering an earned run before Lucas Duda's single plated David Wright in the fourth inning and pulled the Mets within 5-1.
FAMILIA SIGHTING: Jeurys Familia, who tossed a scoreless inning in his major league debut in St. Louis, couldn't duplicate that effort in his second appearance. Familia took the mound for the seventh, when the skies opened and play was halted. After the 75-minute delay, he returned to the mound and finally threw a pitch. Familia surrendered three straight singles to begin his appearance, to Dan Uggla, McCann and Jose Constanza. Martin Prado then delivered a two-run single to give the Braves a 10-2 lead.
WHAT'S NEXT: Chris Young (4-7, 4.48 ERA) opposes right-hander Tommy Hanson (12-7, 4.45) in Sunday's 1:10 p.m. series finale as the Mets aim to avoid the sweep. The game will mark Chipper Jones' final playing appearance at Citi Field. Jones is 0-for-7 with a walk through two games of the series. Wally Backman has been scheduled to join the Mets as an extra coach Sunday.