Terry Collins said he had no concern warming up Jeurys Familia to enter for the seventh inning, then having the rookie wait through a 75-minute rain delay before warming up again and pitching in the game. Familia, used as a starter at Triple-A Buffalo this season, allowed three straight singles to begin his appearance and later surrendered a two-run single to Martin Prado.
"He just had warmed up," Collins said, minimizing Familia's pre-rain delay activity. "He was fine to pitch. I wanted to get him an inning in today anyway."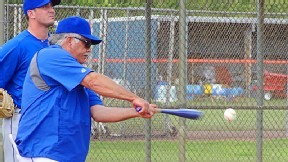 Adam Rubin
Wally Backman is due to serve as an extra coach with the Mets beginning Sunday.
• Wally Backman, who managed Triple-A Buffalo this season, is due to join the Mets as an extra coach beginning Sunday. It is customary for the Mets to add a minor league coach to the major league staff once rosters expand in September.
• Jeremy Hefner's control -- or lack thereof -- was the issue in him allowing five runs on eight hits and two walks in 2 2/3 innings.
"He was off," Collins said. "That's his whole game -- command of his stuff. He was missing with everything that he was throwing, missing off the plate, falling behind. And when guys like him fall behind, they've got to come in to the big part of the plate and they can get hurt."
Said Hefner: "Definitely it was command. I left a lot of pitches over the middle and they capitalized."
• Lucas Duda went 2-for-4 and twice drove in David Wright, in what Collins labeled Duda's best performance since returning from a demotion to Buffalo.
"Today's the best day that he's swung the bat," Collins said. "As we head down to the end of the season, we've got to find out what he's going to do for us in the future. Last year he had such a great debut here. This year he struggled a little bit. I think the position change didn't help him. But if we get him going offensively, we've got a chance that he can be a dynamic offensive player for us."
• Even with a two-day break, Collins sensed Ruben Tejada looked tired Saturday. Tejada went 0-for-4.
"Both those balls he hit to right-center field, when he's swinging good, when his timing is better, those balls are hit hard -- hard," Collins said. "It just looks to me like he's dragging a little bit. That barrel speed isn't there that we're accustomed to seeing. But I know he's trying to get through it. I know he wants to play, he wants to be out there. I just think we're finding out, and he's finding out, how hard the entire season can be on a player."
• The Mets have now scored three runs or fewer in nine straight home games. That's their longest streak since 1982. The franchise record is 11 straight games.