The Mets get a day to regroup after losing five of their last six games.
Josh Rodriguez drove in seven runs, but Binghamton lost to New Hampshire in 11 innings.
Mets suffer through a scoreless weekend as they're blanked by Doug Fister and the Washington Nationals.
The New York Mets have now lost three straight series since their 11-game winning streak after a 1-0 loss to the Washington Nationals.
Flores gets an extra day off to clear his head as he combats string of errors.
Mets shortstop Wilmer Flores is out of the lineup for the second consecutive day.
Sunday's New York Mets Daily Briefing talks about the low-scoring nature of Mets-Nationals games.
Because of the Washington Nationals' starting pitching depth, the New York Mets Terry Collins said he expects more games like Saturday's 1-0 decision.
Jared King helped lift the Binghamton Mets to their sixth straight victory.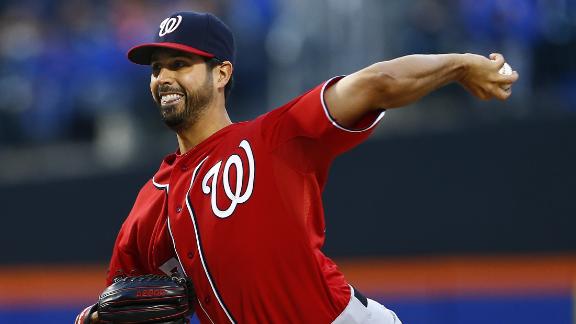 Gio Gonzalez held the Mets scoreless as New York lost its sixth game out of the last nine.
Giants executive Brian Sabean could be scouting the New York Mets' Daniel Murphy with the Giants potentially seeking an upgrade at third base.
Here are the lineups as the New York Mets face the Washington Nationals at 7:10 p.m. ET on Saturday at Citi Field.