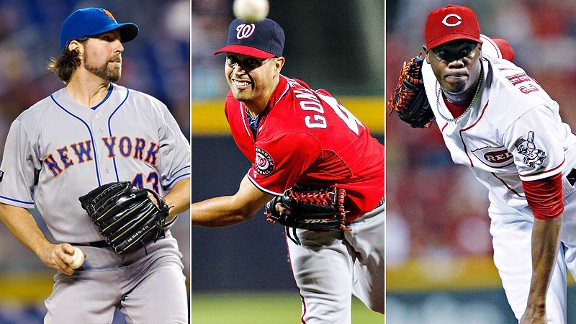 US Presswire
ESPN.com's Cy Young predictor formula has R.A. Dickey the leading candidate, followed by Washington's Gio Gonzalez and Cincinnati's Aroldis Chapman.R.A. Dickey has the best chance among National League pitchers to win the Cy Young Award, according to an ESPN.com formula produced by Bill James and Rob Neyer. But the battle with Gio Gonzalez is oh-so-narrow.
According to the formula, Dickey has 170.3 Cy Young Points (CYP), followed by Gonzalez with 167.8. But Gonzalez will pick up two extra points once the Washington Nationals win the NL East, meaning Dickey's actual lead is a half-point.
The formula, which was computed based on past balloting results:
Cy Young Points (CYP) = ((5*IP/9)-ER) + (SO/12) + (SV*2.5) + Shutouts + ((W*6)-(L*2)) + Victory Bonus.
The Victory Bonus is 12 points for being on a team that wins a division. In Gonzalez's current point total, he has been awarded 10 of the 12 points, since that percentage of the season already is completed.
Here are the current CYP standings:
Dickey, 170.3
Gonzalez, 167.8
Aroldis Chapman, 155.0
Johnny Cueto, 154.5
Matt Cain, 148.5
Cole Hamels, 138.6
Stephen Strasburg, 136.9
Kyle Lohse, 135.0
Craig Kimbrel, 134.4
Joel Hanrahan, 129.0
More details here. Dickey faces the Phillies tonight, bidding for win No. 19.