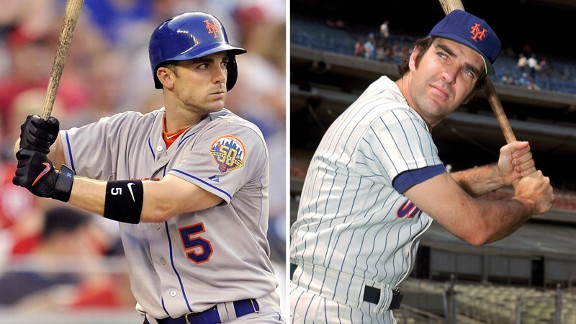 US Presswire/Getty Images
David Wright is six hits shy of matching Ed Kranepool's franchise hits record.
David Wright enters Wednesday night's game with 1,412 career hits, six shy of matching Ed Kranepool's franchise record. Kranepool amassed the total over 18 seasons with the Mets, whereas Wright broke into the majors in 2004.
HIT MEN
A statistical comparison of the Mets careers of David Wright and Ed Kranepool.
"I hope I get there," Wright said. "We've talked about this. It's been a grind lately. But it's something I'm really, really proud about. Hopefully I can get there, like I said before. I'm sure I'll enjoy it much more when I'm done playing and can kind of look back. But as of now, it's difficult to sit back and truly enjoy it or pat yourself on the back because of the position we've put ourselves in kind of in the second half. But obviously it's humbling and very exciting to be able to break some of these team records. I'm very proud of that."
As for his relationship with the 67-year-old Kranepool, Wright added: "He's out here somewhat frequently. So I get a chance to talk to him. It's nice, some of these players that come back, including Ed, to get to know and understand the history of the organization. He always has really nice things to say to me. He's always very encouraging. Obviously that's nice when some of these former players come back and are as helpful and encouraging as Ed is."