ATLANTA -- A day after R.A. Dickey became the Mets' first 20-game winner in 22 years, the knuckleballer said the euphoria had yet to subside.
"I don't know if I've really come down from it yet, which is odd for me," Dickey said Friday afternoon inside the visitors' dugout at Turner Field. "It's nice to be able to sit and enjoy the moment for more than just a couple of hours after the game, which is normally how I am. So I'm thankful I still feel the sensations of yesterday, which is nice."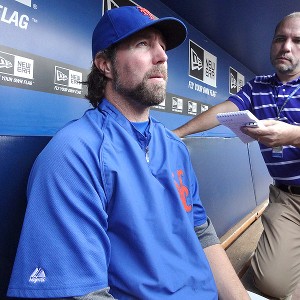 Adam Rubin
R.A. Dickey reflects on Thursday's 20th win inside the dugout in Atlanta the day after.
Dickey's wife Anne and four children joined him in Atlanta on Thursday night, after the team flew in from New York and the clan drove from their Nashville home. Dickey originally was scheduled to face the Braves in the series opener tonight, but instead moved it to the finale against the Pirates for a more favorable matchup and to share the moment with Mets fans.
"I didn't necessarily have the pressure of having to pitch here," Dickey said, referring to Turner Field. "I really could just enjoy the moment with [the family] and we could all kind of celebrate in our own way, which is to say that I gave them all a bath and put them to bed. They're really impressed with what I do, which I'm glad. I've said it before: They like that their dad plays baseball, but 20 wins or no wins, we still love each other."
Did Dickey feel differently waking up a 20-game winner?
"Not necessarily, at least not yet," Dickey said. "I don't know what it will eventually amount to. Is it life-changing? I don't know. It's certainly nice to be mentioned with some of the names that have been through 'Metsville,' and even other names for that matter. That part is pretty neat. As far as waking up and feeling like I'm somebody else? No. Not really."
Dickey said his intention his to pitch on normal rest Tuesday in Miami, not take an extra day of rest. (That would have him facing Adam Greenberg in the ex-Cub's first plate appearance since being struck in the head in his major league debut seven years ago.) Still, Dickey will wait until Saturday to affirm that decision, since he threw 128 pitches in his last outing, three shy of his career high.
"I'm going to talk to Dan Warthen tomorrow. We're going to see where we stand with things," Dickey said. "I did throw a lot of pitches last game. But I don't anticipate moving it around. Tuesday is my day. I feel like I'm going to hit it."
He insisted he will not view the game against the Marlins as a closing argument for the Cy Young.
"I haven't thought that one time," Dickey said. "That's the honest answer. I haven't felt that once."
As for his summary of the season, he added: "Life doesn't always agree with your vision for it. Maybe never. Maybe rarely. In this particular year, it has superseded any expectation that I had. I certainly have a big imagination, and I dream big. But I couldn't even dream this narrative up. It's really kind of supernatural for me, and I'm just trying to be in the moment with it and really enjoy it, because I've also been on the other side of the coin. I got picked up off the scrap heap. So I've been there, too. I've been part of the scrap heap, too. That gives me a very unique perspective."
Now the expectations are Dickey will continue to perform at an ace level.
"When you set the bar at a certain height, people expect you to leap over it again and again and again," Dickey said. "The reality is that usually doesn't happen. I'll be the first to admit: If I try to have the season that I'm having this year next year, I'm probably going to fail miserably. So I'm not going to do that. I'm going to just try to put one good outing after another up there and hopefully remain healthy enough to pitch over 200 innings again."