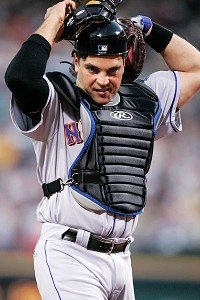 Paul Abell/US Presswire
Mike Piazza, now retired for five seasons, appears on the Hall of Fame ballot for the first time.
Mike Piazza is due to make his first appearance on the Hall of Fame ballot when it is released at noon ET Wednesday.
Other retired players to appear for the first time are sure to include: Craig Biggio, Barry Bonds, Roger Clemens, Curt Schilling and Sammy Sosa.
It will be clear who else made the cut to appear on the ballot at noon, but other eligible players include Kenny Lofton, David Wells, Julio Franco, Shawn Green, Steve Finley, Roberto Hernandez, Jeff Cirillo, Jose Valentin, Reggie Sanders, Jeff Conine, Jose Mesa, Royce Clayton, Bob Wickman, Ryan Klesko, Aaron Sele, Woody Williams, Rondell White, Mike Lieberthal, Tony Batista, Mike Stanton, Sandy Alomar Jr., Damian Miller and Todd Walker, according to the Hall of Fame.
A candidate must appear on 75 percent of submitted ballots in order to gain election.
For the full set of rules, click here.