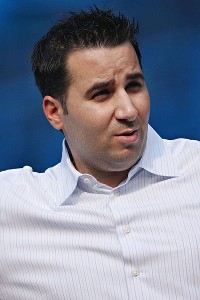 Tom Szczerbowski/USA TODAY Sports
Jays GM Alex Anthopoulos is paying a hefty price for R.A. Dickey.
ESPN Buster Olney notes the Mets were 53-39 during the past three seasons when R.A. Dickey started and 177-217 when anyone else pitched. He also writes in his Insider piece:
Talent evaluators who have heard Toronto Blue Jays GM Alex Anthopoulos say no to possible deals for catching prospect Travis d'Arnaud in the past are stunned -- completely shocked -- that Toronto has said yes to a to a proposed trade for Dickey. There's even more to this deal than d'Arnaud: Noah Snydergaard, regarded as the Jays' best pitching prospect by some teams, would be the cherry on top of this trade for the Mets, if it goes through.
"I can't believe [Anthopoulos is] thinking about doing this," said one AL official Saturday, before the Jays and Mets finished the structure of the deal.
"He's out of his mind," said another.
ESPN Insiders can read the full report here.