On a conference call with New York reporters, R.A. Dickey offered insights into his final days as a Met ...
• On last Tuesday's Christmas party at Citi Field, when he made pointed comments about the status of negotiations, Dickey said: "At the Christmas party, I must admit to you, that I was unprepared for that informal press conference, if you will. I wasn't aware I was going to be put in that position. So I didn't have a conversation with anybody about what was going to happen. … I feel badly about using a time such as that to become emotional, and I want to apologize for that. That wasn't the venue necessarily to do that in. Now I think my emotions and my feelings were warranted. At the same time, that was the wrong place to do that."
• Dickey said the Mets originally offered him a two-year, $14 million extension on top of the $5 million owed in 2013. Their last bid -- albeit informal -- was two years, $20 million. He said he was not insulted by the lowball opening bid.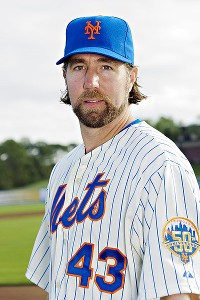 Steve Mitchell/US Presswire
R.A. Dickey discussed his final days as a Met.
"I think it might have been the equivalent of somebody offering $1 -- 'Let's just get it going to see where we stand,'" Dickey said. "I didn't necessarily take that first offer as a convincing slap in the face or anything. I wasn't looking for a fight after that. I just thought that was an arbitrary offer that they made and, 'Let's get the ball rolling and we'll see where we stand at the end of this thing.' That's how it's done, so there wasn't any acrimony to it."
• Dickey suspects the slow pace of negotiations stemmed from the Mets trying to see what trade proposals were available.
"I think, just as a logical person, it made sense that they were going slowly to try to see what was out there," Dickey said. "And I can certainly understand that. It may not have not lined up with my timing, which is perfectly OK."
• Dickey said he firmly knew he was done as a Met on Saturday, when Sandy Alderson called him to say Toronto had a 72-hour negotiating window. He figured even if an extension did not work out there, he would be traded somewhere. "Let's just say if the extension or whatever did break down with Toronto, I knew that they were aggressively seeking to move me at that point," Dickey said.
• Dickey expressed disappointment with at least one tabloid column that portrayed him on his way out as being a publicity seeker who had critics among other players in the clubhouse.
"My response is, 'Go ask my teammates,'" Dickey said.
He added: "I didn't quite understand the timing. And so because of the timing, if you put two and two together, it looks like there's a force out there trying to sway a public perception. And that was just sad to me. I didn't feel smeared necessarily, because I'm confident in who I am and the things I do and who I am as a human being."
• Summarizing his Mets career ending, he said:
"I am sad. And I think it's important for me to grieve that. I think it's important for me to grieve leaving New York. I had a proverbial home there. I had a home among fans. I had a home in an organization. I had a lot of success there. And I think it's important for me to be sad about that for a moment before I go on to the next feeling.
"And that next feeling has already arrived for me. So I've grieved what I need to grieve. And now I am so excited. I can't tell you how excited I am to be part of an organization that's committed to winning and putting a product on the field that the fans can be excited coming to support."