RIP Oscar Madison
December, 25, 2012
12/25/12
4:39
PM ET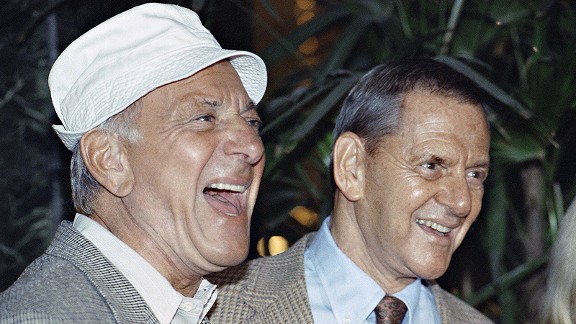 AP Photo/Craig FujiiKlugman (if you have to ask which one he is, you shouldn't be here) with co-star Tony Randall
Jack Klugman, who played rumpled New York sportswriter Oscar Madison in the classic TV series "The Odd Couple," died Monday at 90. Oscar, of course, was a mainstay in the pressbox at Shea Stadium during the Miracle Mets era.
Obituary »
Share your favorite "Odd Couple" lines or episodes in the comments section. Quincy fans welcome, too.
ABOUT THIS BLOG
Adam Rubin

Adam Rubin has covered the Mets since 2003. He's a graduate of Mepham High School on Long Island and the Wharton School of the University of Pennsylvania. He joined ESPNNewYork after spending 10 years at the New York Daily News.
Mark Simon

Mark Simon is ESPN Stats & Information's Baseball Research Specialist. One of several Mets historians working at ESPN, he joined the Worldwide Leader in 2002 after 6 1/2 years as a sports writer at the Trenton Times.
Email Mark » Follow Mark on Twitter »
AdamRubinESPN Adam Rubin
Keith mentions Archie Bell & the Drells. I had to look it up: http://t.co/EKG4xpXJtS
2 minutes ago

AdamRubinESPN Adam Rubin
Ellis RBI double vs. Rafael Montero. #Dodgers 6, #Mets 1, bot 8
5 minutes ago

AdamRubinESPN Adam Rubin
Noah Syndergaard final line with Vegas: 6 IP, 8 H, 6 R, 5 ER, 1 BB, 8 K, 1 HBP.
8 minutes ago

AdamRubinESPN Adam Rubin
Really don't see who else would go to Triple-A for deGrom. And TC said pregame that Jenrry Mejia and Dana Eveland (elbow) are healthy.
10 minutes ago

AdamRubinESPN Adam Rubin
Rafael Montero will make his 1st MLB relief appearance in bot 8. Will be interesting to see if demoted for deGrom postgame or staying.
12 minutes ago

AdamRubinESPN Adam Rubin
Granderson called out on strikes to end top 8. Leaves two runners in scoring position. Keith: "That ball is knee high to a grasshopper."
13 minutes ago

AdamRubinESPN Adam Rubin
Doesn't need to be added to 40-man roster this winter and Vegas playoff-bound. Interesting call. MT @DavidGansell: Matt Reynolds please
25 minutes ago

AdamRubinESPN Adam Rubin
Matt Kemp two-run double. Three unearned runs in inning because of E-6. #Dodgers 5, #Mets 1, bot 7. Good night.
30 minutes ago

AdamRubinESPN Adam Rubin
Mark Simon gave the stat a couple of days ago -- believe that's 6 games this season with 2 errors by the same Met (4 by Murph).
33 minutes ago

AdamRubinESPN Adam Rubin
Wilmer Flores 2-out throwing error allows L.A.'s third run to score. #Dodgers 3, #Mets 1, bot 7
34 minutes ago

AdamRubinESPN Adam Rubin
OH NO
34 minutes ago

AdamRubinESPN Adam Rubin
Double-A Binghamton #Mets clinched playoffs on Thursday's off-day, so celebrated after win today, via @Dilson_H: http://t.co/ePdvv70Z2b
36 minutes ago

AdamRubinESPN Adam Rubin
The Fonz attending Friday's #Mets-#Dodgers game (as shown on SNY): http://t.co/izignEAzZH
44 minutes ago

AdamRubinESPN Adam Rubin
Dan Haren breezing. Two straight perfect frames. Already the 7th inning stretch. #Dodgers 2, #Mets 1, mid-7
46 minutes ago

AdamRubinESPN Adam Rubin
Since allowing five first-inning runs, Noah Syndergaard has followed with four scoreless frames for Vegas vs. New Orleans.
51 minutes ago

AdamRubinESPN Adam Rubin
Jon Niese escapes runners at corners with inning-ending double play. #Dodgers 2, #Mets 1, end 6.
52 minutes ago

AdamRubinESPN Adam Rubin
Scott Van Slyke stepped directly on back of Wilmer Flores' right hand with spike. Wilmer still looking at it between pitches.
53 minutes ago

AdamRubinESPN Adam Rubin
Wilmer Flores shaking right hand after Scott Van Slyke slides into him at second base.
54 minutes ago

AdamRubinESPN Adam Rubin
Minors 8.22.14: B-Mets' Herrera drives in 4 http://t.co/GsubZ9gL0q #NYM #Mets
about an hour ago

AdamRubinESPN Adam Rubin
Not sure if there's express written consent, but ... RT @EricSals: It's impossible to be more #Mets than this! https://t.co/FE8dOdV1UX
about an hour ago
UPCOMING GAMES
| | W-L | HM | AW | STK | L10 |
| --- | --- | --- | --- | --- | --- |
| NYM | 60-68 | 30-32 | 30-36 | W1 | |
| LAD | 72-57 | 32-31 | 40-26 | W1 | |
| | W-L | HM | AW | STK | L10 |
| --- | --- | --- | --- | --- | --- |
| NYM | 60-68 | 30-32 | 30-36 | W1 | |
| LAD | 72-57 | 32-31 | 40-26 | W1 | |
| | W-L | HM | AW | STK | L10 |
| --- | --- | --- | --- | --- | --- |
| NYM | 60-68 | 30-32 | 30-36 | W1 | |
| LAD | 72-57 | 32-31 | 40-26 | W1 | |
BLOG ARCHIVE:
CATEGORIES:
AUGUST 2014
SEPTEMBER 2014
OCTOBER 2014
Sun
Mon
Tue
Wed
Thu
Fri
Sat

1

@MIA
1:10 PM ET

2

@MIA
7:10 PM ET

3

@MIA
7:10 PM ET

4

5

@CIN
7:10 PM ET

6

@CIN
4:10 PM ET

7

@CIN
1:10 PM ET

8

COL
7:10 PM ET

9

COL
7:10 PM ET

10

COL
7:10 PM ET

11

WSH
7:10 PM ET

12

WSH
7:10 PM ET

13

WSH
7:10 PM ET

14

WSH
1:10 PM ET

15

MIA
7:10 PM ET

16

MIA
7:10 PM ET

17

MIA
7:10 PM ET

18

19

@ATL
7:35 PM ET

20

@ATL
7:10 PM ET

21

@ATL
1:35 PM ET

22

23

@WSH
7:05 PM ET

24

@WSH
7:05 PM ET

25

@WSH
7:05 PM ET

26

HOU
7:10 PM ET

27

HOU
7:10 PM ET

28

HOU
1:10 PM ET

29

30

| Sun | Mon | Tue | Wed | Thu | Fri | Sat |
| --- | --- | --- | --- | --- | --- | --- |
| | | | 1 | 2 | 3 | 4 |
| 5 | 6 | 7 | 8 | 9 | 10 | 11 |
| 12 | 13 | 14 | 15 | 16 | 17 | 18 |
| 19 | 20 | 21 | 22 | 23 | 24 | 25 |
| 26 | 27 | 28 | 29 | 30 | 31 | |
2014 NATIONAL LEAGUE EAST STANDINGS