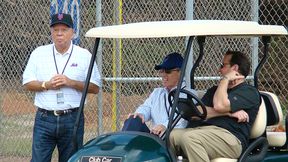 Adam Rubin
Fred Wilpon (center) reportedly has strengthened his ability to retain the Mets.
The Mets' owners have refinanced $450 million in loans borrowed against SportsNet New York that had been owed during the next two years, further enhancing the ability of Fred Wilpon and his family to maintain ownership of the team for the long haul, the Post reported.
The newspaper did not elaborate on the structure of the new financial obligation, but it presumably reduces any massive payment coming due soon that would imperil the Wilpons' ability to retain the team.