Mike Piazza came up short of the 75 percent threshold for Hall of Fame election in his first year on the ballot. He appeared on 58 percent of Baseball Writers' Association of America ballots.
No one was selected this year.
Those who fail to receive 5 percent of the vote drop off the ballot.
"We hope in the not-too-distant future that Mike Piazza will take his rightful place in the Baseball Hall," Mets chief operating officer Jeff Wilpon said via the team. "The statistics he compiled during his career as a catcher were unmatched by anyone in the history of the game. We are optimistic one day soon Mike's plaque, with a Mets cap, will be hanging in Cooperstown where it truly belongs."
The full vote, with years on ballot: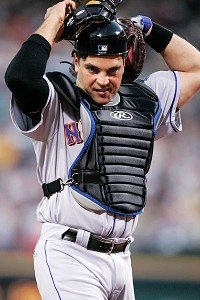 Paul Abell/US Presswire
Mike Piazza will not be a first-ballot Hall of Famer.
Craig Biggio 388 (68.2%) 1
Jack Morris 385 (67.7%) 14
Jeff Bagwell 339 (59.6%) 3
Mike Piazza 329 (57.8%) 1
Tim Raines 297 (52.2%) 6
Lee Smith 272 (47.8%) 11
Curt Schilling 221 (38.8%) 1
Roger Clemens 214 (37.6%) 1
Barry Bonds 206 (36.2%) 1
Edgar Martinez 204 (35.9%) 4
Alan Trammell 191 (33.6%) 12
Larry Walker 123 (21.6%) 3
Fred McGriff 118 (20.7%) 4
Dale Murphy 106 (18.6%) 15
Mark McGwire 96 (16.9%) 7
Don Mattingly 75 (13.2%) 13
Sammy Sosa 71 (12.5%) 1
Rafael Palmeiro 50 (8.8%) 3
Bernie Williams 19 (3.3%) 2
Kenny Lofton 18 (3.2%) 1
Sandy Alomar Jr. 16 (2.8%) 1
Julio Franco 6 (1.1%) 1
David Wells 5 (0.9%) 1
Steve Finley 4 (0.7%) 1
Shawn Green 2 (0.4%) 1
Aaron Sele 1 (0.2%) 1
Jeff Cirillo 0 (0%) 1
Royce Clayton 0 (0%) 1
Jeff Conine 0 (0%) 1
Roberto Hernandez 0 (0%) 1
Ryan Klesko 0 (0%) 1
Jose Mesa 0 (0%) 1
Reggie Sanders 0 (0%) 1
Mike Stanton 0 (0%) 1
Todd Walker 0 (0%) 1
Rondell White 0 (0%) 1
Woody Williams 0 (0%) 1