For the next 20 weekdays, ESPNNewYork.com takes a daily look at a question surrounding the 2013 Mets. Leading off: Where is Daniel Murphy as a second baseman?
At the outset of his college career at Jacksonville University, Daniel Murphy was asked what position he played.
Murphy responded with his preferred spot in the batting order.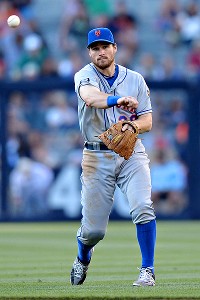 Jake Roth/USA Today Sports
Daniel Murphy was a minus-11 in Defensive Runs Saved last season.
He isn't proud of that reply these days. He wishes he had been more humble.
Even back then, though, Murphy primarily was viewed as a bat without a position.
Now, after stints at third base, left field and first base as a professional, Murphy finally has settled at a position. And while his bat may be the reason he is in the majors, infield coach Tim Teufel believes Murphy has made strides at second base, where he now is entrenched.
Murphy started 129 games at second base in 2012 while hitting .291 with six homers and 65 RBIs in 571 at-bats.
"He had one of those turnaround years from spring training alone," Teufel said. "Coming out of spring training, he was just getting on track. And then he got better and better as the year went on. I feel very comfortable with him being out there at second base.
"He learned a variety of ways of turning the double play and got really comfortable with it. I thought he did a good job as far as his depth went. He was playing the shifts well. Coming out of spring training, we didn't know what we were going to get out of Murph every day. And he just improved every time he went out there."
ESPN Stats & Information nonetheless notes that among the 29 players with at least 500 innings at second base last season, Murphy ranked tied with San Diego's Logan Forsythe for fifth worst in Defensive Runs Saved -- costing the Mets 11 runs. Murphy ranked only better than Ryan Theriot (-12), Jemile Weeks (-14), Jose Altuve (-18) and Rickie Weeks (-30).
"Spring training for Murph will be easier than it was last year, that's for sure," Teufel said. "It will be less work for him as far as learning the fundamentals. I think he already has that. I think he's just going to be trying to hone his skills around the bag. You can always improve on that. His positioning on double plays, he's still getting accustomed to where to play and where the most comfortable position is for him -- making sure he gets to the bag on time."