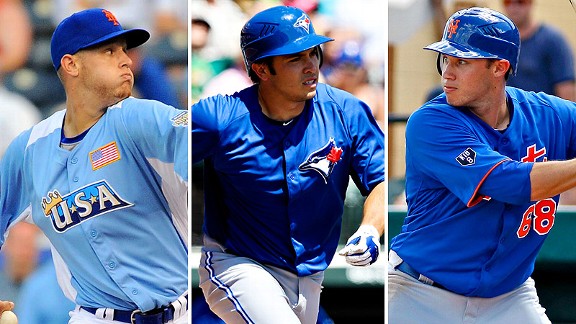 USA Today Sports
Zack Wheeler, Travis d'Arnaud and Matt den Dekker (l to r) all should make their major league debuts in 2013.
The 2013 season may be an uphill battle for the Mets, but there should be some fun things to watch on the prospect front. Here's a look at six farmhands who may make their major league debut in 2013 -- headlined by two near-certainties: top prospects Zack Wheeler and Travis d'Arnaud.
Zack Wheeler, rhp. Acquired from the San Francisco Giants for Carlos Beltran on July 28, 2011, Wheeler went a combined 12-8 with a 3.26 ERA between Double-A and Triple-A last season, while recording 148 strikeouts in 149 innings. Wheeler should open the season at Triple-A Las Vegas, perhaps in an Opening Day battery with d'Arnaud. Matt Harvey made his major league debut last July 26. That's probably the track Wheeler is on for this year, with the Mets rounding out their rotation until then by signing someone of the Chris Young/Carl Pavano ilk.
Travis d'Arnaud, c. John Buck and Anthony Recker likely will serve as the Mets' early season catchers, but they're merely placeholders for the 23-year-old d'Arnaud, who was acquired from the Toronto Blue Jays with right-hander Noah Syndergaard and outfielder Wuilmer Becerra for R.A. Dickey. D'Arnaud hit .333 with 16 homers and 52 RBIs in 279 at-bats with Las Vegas to open his first season in Triple-A before partially tearing the posterior cruciate ligament in his left knee on June 25. He likely will open the season at Triple-A to get more seasoning -- and to delay his free-agency eligibility until after the 2019 season.
Matt den Dekker, cf. If den Dekker batted righty, he might be a more serious threat to break camp with the Mets. While opening the upcoming season, he will work to cut down on his strikeout totals (154 in 533 at-bats in 2012 between Double-A and Triple-A).
Wilmer Flores, 2b/3b. Originally a shortstop, Flores moved off his natural position last season while hitting a combined .300 with 18 homers and 75 RBIs between Class A St. Lucie and Double-A Binghamton. Mets officials say the 21-year-old Venezuelan will stay in the infield, not shift to the outfield.
Darin Gorski, lhp. Added to the 40-man roster to protect him from Rule 5 draft eligibility, Gorski nearly exclusively has been a starting pitcher since being selected in the seventh round in 2009 out of Kutztown (Pa.) University. But with a lack of establish lefties, Terry Collins said Gorski (9-8, 4.00 ERA in 139 2/3 innings with Binghamton in 2012) will get a look in a situational relief role in spring training. Beyond Josh Edgin, and with re-signed Tim Byrdak not going to be available until at least the second half because of shoulder surgery, there is room for Gorski to make a statement. His competition right now: Robert Carson as well as Aaron Laffey and Scott Rice, who signed minor league contracts.
Jack Leathersich, lhp. Edgin made the jump from A-ball to the majors in less than a year, and Leathersich could be on that track as a lefty reliever -- although not for Opening Day. Leathersich, a fifth-round pick from UMass-Lowell in 2011, has struck out a gaudy 139 batters in 84 2/3 innings as a pro. Also watch University of Maryland product Adam Kolarek for lefty relief consideration this year.
ESPNNewYork.com is taking a look each weekday at one of 20 questions surrounding the 2013 Mets.