The Mets' farm system has improved in recent years, although Baseball America still recently ranked it in the lower half in the majors.
Regardless, it's indisputable that the system has benefited from the trades of Carlos Beltran and R.A. Dickey, which combined to yield Zack Wheeler, Travis d'Arnaud, Noah Syndergaard and Wuilmer Becerra.
So what is the state of the farm?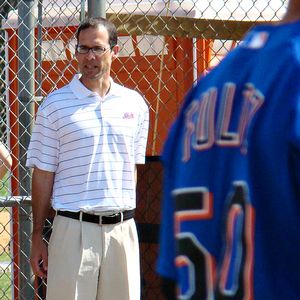 Adam Rubin
Paul DePodesta reviewed the state of the farm system with ESPNNewYork.com.
"First, I think the system when we first arrived was underrated," Paul DePodesta insisted. "It included current big leaguers like Dillon Gee, Ruben Tejada, Lucas Duda and Kirk Nieuwenhuis, among others. Our job is to just add as many talented players as we can each and every year, while graduating the more advanced players to the big leagues, and we're very happy with what we've been able to do both domestically and internationally over the past two years.
"We never get caught up in the rankings, because ultimately, it's about producing quality big leaguers. There are no rings awarded for the best ranking, and guys like Tejada and Gee were never ranked terribly high anyway.
"That said, we're very pleased with where our system is right now. Thanks to both our scouts and our development people, this is the most talented and deepest group of pitching prospects that I've been a part of in the past 20 years, and I've been fortunate to have been around some good ones. Our teams finished first in the league in ERA, WHIP and K/BB ratio -- a good trifecta -- in the Florida State League, the South Atlantic League, and the New York Penn League, and we did that with six-man rotations at each spot. Further, those staffs didn't include guys like Wheeler, Familia, Mejia, Harvey, etc. The best part, in my mind, is that our guys aren't just touch/feel guys who are old for their league and are good performers. Rather, these guys have stuff, command and performance. Of course, not all of them will make it, but we have enough of a mass to believe that some of them should.
"Admittedly, our position players are behind our pitchers -- our pitchers led all of minor league baseball in ERA -- but we think we added some key guys in last year's draft, and some of our international players continue making progress. There are some position players we're very excited about. But, collectively, it's not as deep as the pitching.
"All in all, more than a dozen of our players who haven't appeared in any top-10 list have been asked about this winter in major league trades, so other teams out there certainly like our depth. Then you add in the players we have acquired via trade, and we feel the system is close to reaching the level of being a true feeder system for the major league team."
It is true that the new collective bargaining agreement has slowed the restocking of the system. The Mets originally aimed to go over slot in the draft and be more aggressive internationally, but the new rules that cap spending largely prevent that.
"Certainly the new CBA caused us to reevaluate the mechanics of what we do, but it didn't change our approach, which has been to find and acquire the best players possible, regardless of high school or college, domestic or international, or big-dollar or small-dollar demands," DePodesta said. "We continue to focus on the talent. Signing a guy like German Rosario this year was a perfect example of that. We felt he was the best prospect on the board internationally, and we paid top dollar to acquire him ($1.7 million). Sure, we'd like to sign even more guys, but we're happy with what we were able to acquire this past year under the new restrictions."