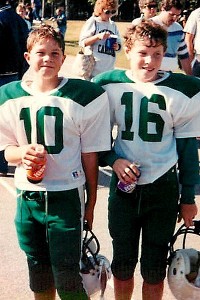 Courtesy of Ron Powell
Landon Powell (left) and Josh Hamilton (right) were multi-sport teammates growing up, including in Pop Warner football.
After two surgeries to repair the ACL in his left knee and another to clean out cartilage, a scary ordeal during which he experienced the early stages of liver failure and may ultimately require a transplant, and career highlights such as catching Dallas Braden's perfect game, 30-year-old Landon Powell is the New York Mets' newest catcher.
He signed a minor league deal last week, reuniting with bench coach Bob Geren, his manager for three seasons with the Oakland Athletics.
Read the full feature story here.