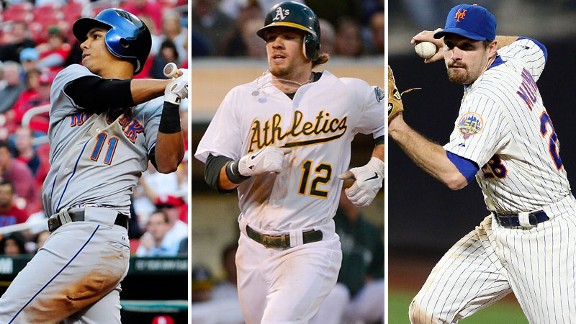 Getty Images
Ruben Tejada, Collin Cowgill and Daniel Murphy are the primary leadoff candidates for Terry Collins.
If the Mets somehow land Michael Bourn, this discussion will be over. But if the team heads to camp without any additional outfielder, which appears the likelihood, who will lead off for the Mets in 2013?
Terry Collins has not firmly decided. But Ruben Tejada, Collin Cowgill and Daniel Murphy would get the most consideration, along with "maybe" Kirk Nieuwenhuis, according to the manager.
None is an ideal choice.
Tejada looks the part, as a shortstop with a slight frame. But he has stolen only 11 bases in 18 attempts over 288 career major league games, isn't quick and actually is not a good baserunner, either.
Improving his skills on the bases will be a point of emphasis during spring training.
Regardless, Tejada may be the most likely among non-optimal choices.
He had a .333 on-base percentage last season. That actually is 15 points higher than the league average for the leadoff spot in 2012. Only five NL teams had a better OBP out of their leadoff men in 2012 -- the Chicago Cubs (.346), Colorado Rockies (.344), Atlanta Braves (.342), St. Louis Cardinals (.337) and San Francisco Giants (.335).
One complication with Tejada being the full-time leadoff man: Tejada has a far higher OBP against lefty pitchers than righties: .367 versus .316 in 2012.
Mixing and matching Tejada and Cowgill wouldn't really work for that reason. Cowgill, during his brief major league career, has an even-more-pronounced difference: a .379 OBP versus southpaws and .273 versus righties.
As for Murphy, he had a near-identical overall OBP to Tejada in 2012 -- .332.
Murphy might work in a platoon with Tejada as the leadoff man, if Collins is not wed to sticking with one player.
Murphy's OBP against righty pitching last season was .341. Couple that with Tejada's .367 versus lefties and that's a more-than-acceptable tandem from an OBP perspective.
Of course, Murphy would be the anti-Jose Reyes -- someone who is a no threat to steal.
Who historically fits that category? Well, Pete Rose, Tony Phillips, Derek Jeter and David Eckstein are among the leadoff men over the past half-century who had the most games in a season in which they reached base multiple times without stealing.
Last season, Nick Markakis hit .335 with a .390 OBP in 221 at-bats in the leadoff spot for Baltimore and did not produce a steal.
Chris Coghlan in 2009 with the Marlins had a .336 average and .397 OBP in 446 at-bats in the leadoff spot, while swiping only seven bases.
Cowgill started three games with Oakland last season in the leadoff spot. In 61 games with Triple-A Sacramento in 2012, he batted first in 19 games. He stole 11 bases in 101 games between the majors and minors.
One complication is that the righty-hitting Cowgill may not be a full-time player for the Mets. In fact, the most likely scenario has him platooning in center field with Nieuwenhuis.
So what about a center field and leadoff platoon of the righty-hitting Cowgill and lefty-hitting Nieuwenhuis? That clearly would produce the most steals.
The primary issue with Nieuwenhuis is that he strikes out often. He fanned every 2.88 at-bats in 2012 -- the highest rate ever by a Met who had at least 300 plate appearances in a season. Nieuwenhuis also had a .315 OBP during his rookie season (.324 versus righties).
So Collins has his work cut out for him making the leadoff position work, unless Alderson somehow delivers his manager Bourn.