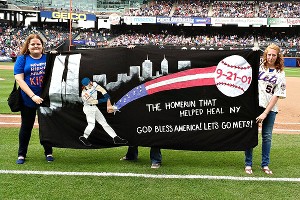 Courtesy of New York Mets
Cousins Olivia Nuzzo and Stephanie Giangrande show off the winning entry in the revival of Banner Day last May.
The Mets, who originally intended to hold Banner Day on May 26, have switched the date after a fan vote.
Banner Day now will be held on Saturday, May 11, before a 1:10 p.m. game against the Pittsburgh Pirates.
The May 26 game had been changed to a night game after being picked up by ESPN.
Fans wanting to convert tickets from May 26 to May 11 can email bannerday@nymets.com.