The New York Mets have finished in fourth place in each of their first four seasons at Citi Field, failing to produce a winning record in any of those campaigns.
They went 70-92 in the inaugural season at Citi Field in 2009, then 79-83, 77-85 and 74-88.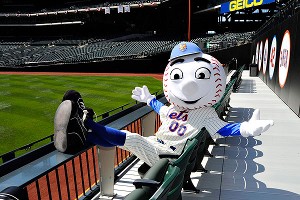 Courtesy of New York Mets
How many people will join Mr. Met at Citi Field in 2013?Attendance has steadily declined during that span as well. After drawing 4,042,045 in their final season at larger-capacity Shea Stadium in 2008, the attendance figures since:
2009: 3,168,571
2010: 2,559,738
2011: 2,352,596
2012: 2,242,803
That's declines of 21.6 percent, 19.2 percent, 8.1 percent and 4.7 percent.
The Mets ranked 17th in the 30-team majors last season in attendance.
How low will it go in 2013 if the losing persists?
"My thoughts are that Citi Field is still in the honeymoon period of a new facility that can last anywhere from three to eight years," says Old Dominion University assistant professor of sports management Stephen Shapiro, who soon will release a study of the Mets' dynamic ticket pricing in 2012. "Attendance has not dropped below 2.2 million since the ballpark opened, despite slight drops in winning percentage over the past three seasons. This is probably due to strong fan support in a large market.
"Assuming a similar trend in on-field success and the novelty of a new ballpark wearing off, my best guess would be another 5 to 8 percent attendance drop, similar to the last two years -- around or slightly below 2 million."
The Mets should benefit this season from the All-Star Game carrot. Fans needed to purchase season tickets in order to be assured the right to purchase All-Star Game strips that include the Futures Game, Home Run Derby and Mid-Summer Classic.
The Mets seemed to slow the recently steep declines in ticket sales last year by offering several late-season promotions, including one adult ticket entitling the spectator to get three youth seats for free. (All the tickets are counted as sold, presumably, at a fraction of their actual value -- meaning the ticket-sales decline likely is exacerbated by a revenue decline.)
The Mets have not had a sub-2 million attendance since 1997, when they drew 1,766,174.
This much is clear: The Mets are not in danger of setting any franchise records.
The 1979 Mets hold that distinction. They drew 788,905 while Joe Torre led them to a 63-99 record.