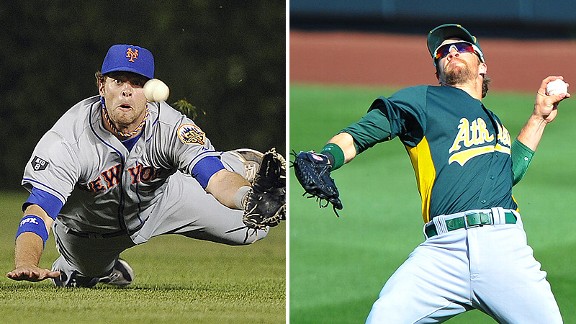 Associated Press
Unless Michael Bourn comes on board, Kirk Nieuwenhuis and Collin Cowgill are slated to platoon in center field.Platoons are not anything new with the Mets.
There have been celebrated ones such as Wally Backman and Tim Teufel at second base, which contributed to a championship.
And not-so-celebrated ones, including Shane Spencer and Karim Garcia in right field. Or, more recently, Mike Jacobs and Fernando Tatis at first base, which stalled and led to the mid-April promotion of Ike Davis two years ago.
Will the Mets be using that arrangement to an extreme in 2013 in the outfield?
Barring the signing of free-agent Michael Bourn to man center field, apparently so.
Lefty-hitting Kirk Nieuwenhuis and right-hitting Collin Cowgill otherwise are projected to platoon in center field. And lefty-hitting Mike Baxter and righty-hitting Marlon Byrd or Andrew Brown should platoon in right field.
Terry Collins even will experiment with righty-hitting infielders Justin Turner and Zach Lutz as outfielders during spring training. While lefty-hitting Lucas Duda should get semi-regular duty in left field, perhaps either Turner or Lutz chips away at Duda's time against southpaws.
Duda's splits are not overly dramatic average-wise, although he has shown considerably more power against right-handed pitching. For his major league career, he has hit .261 with 25 homers in 571 at-bats against righties. He has hit .242 with four homers in 215 at-bats against southpaws.
"Well, it could be more productive," Sandy Alderson said about the platoons. "It also creates an opportunity for more than one person to get playing time -- and through that playing time earn more playing time. It's a way of being productive. It's also a way of seeing what we have. There are positives.
"No one establishes a major league reputation until they get an opportunity to play, and maybe play consistently, at the major league level. We're going to get a chance to see a number of players. And they're all motivated because they all believe they have a chance to make the major league roster. In that sense it's a positive."