PORT ST. LUCIE, Fla.
FIRST PITCH: Mets fans got a glimpse of the future Friday at the team's complex, as Zack Wheeler observed Matt Harvey throw a bullpen session, then began throwing at the adjacent mound.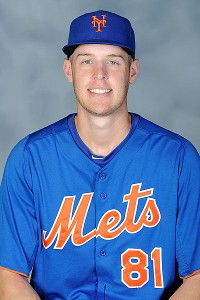 Courtesy of New York Mets
Zack Wheeler
"I'm just going to try to go out there and do my best and make them make a decision, and make it sort of hard on them," said Wheeler, who already has been told by Terry Collins the Opening Day roster is a long shot. "Wherever they send me, I'm just going to go out and compete, because I know my job is to go out there and pitch. I'm not going to get down if they send me to Triple-A. I'm hoping I'll make the team, but if I don't, I'll go to Triple-A, work hard, and hopefully I'll get the call-up soon after."
After a promotion from Double-A Binghamton, Wheeler made six late-season starts for Triple-A Buffalo in 2012. He went 2-2 with a 3.27 ERA while allowing 23 hits and 16 walks and striking out 31 in 33 innings.
"The strike zone got a little bit smaller," Wheeler said, contrasting Triple-A to Double-A. "I wasn't really expecting that, but it did. The higher you go, the smaller it's going to get. You just have to adjust. I think hitters, they chase more down to up, instead of side to side. Like with the slider, they don't chase that sweeping slider. You just can't make mistakes. That's really what I learned."
The Mets' spring-training complex is closed this weekend. Things fire up for real Monday, when pitchers and catchers officially report.
Saturday's news reports:
• Harvey threw his bullpen session to John Buck. "My focus with him is to hone … what he needs to be effective as a power pitcher," Buck told Jorge Castillo in the Star-Ledger. "If you get up there as a power pitcher and just aimlessly throw pitches, sometimes, as a hitter, you can wait on that. But if he uses his stuff effectively in those power situations, then you're not only being a power pitcher, you're keeping the hitters off-balance."
Buck told Kevin Kernan in the Post he should be an asset, despite hitting only .192 with 12 homers in 343 at-bats last season with the Miami Marlins. "I think one of the things that made me attractive in the trade for the Mets was that I am known as a game-caller,'' Buck told Kernan. "I'm a little bit older and I have experience. We have pitchers who are right at the cusp of success, so I think it's a perfect situation for me to help bring the most out of them. Those guys aren't even throwing hard yet and the ball jumps. It's fun to have those tools at my disposal.''
Harvey shouldn't be on an innings limit this year, unless he has wild success. Teams typically allow jumps of 30-35 innings over the previous season. Because Harvey logged a combined 169 1/3 innings between the majors and the minors last season, he should be able to get to nearly 205 innings before alarm bells go off.
Read more on Harvey and Wheeler in the Post.
• Jared Diamond in The Wall Street Journal cites three reasons why the Mets may be better than people think: the rotation, the bullpen and Ike Davis.
• Davis confessed to ESPNNewYork.com he felt fatigued more than he let on last year. His ankle also is better than last spring training, when he struggled to push off on it. Read more in the Daily News.
• Marc Carig in Newsday examines the Mets' outfield. Minus Michael Bourn, Lucas Duda is projected as the left fielder, with Kirk Nieuwenhuis and Collin Cowgill sharing center field and Mike Baxter working part time in right. That would leave a competition among the likes of Marlon Byrd, Andrew Brown and perhaps a converted infielder such as Zach Lutz for the final righty-hitting slot.
• The Mets officially announced the signing of right-handed reliever Brandon Lyon to a one-year contract. Read more in the Star-Ledger and Times.
• From the bloggers … The Eddie Kranepool Society compares Mets outfields of the past to what the current outfield will look like sans Bourn. … Four YouTube videos comprise The Mets Police Guide to Killing Time During The Snow: Opening Day 1972 with Tom Seaver on the mound, footage from the funeral of Gil Hodges, Kiner's Korner from Seaver's return on April 5, 1983, and a home video of 1983 Banner Day.
BIRTHDAYS: '86 Mets hero Mookie Wilson turns 57. ... Former catcher Todd Pratt turns 46.
TWEET OF THE DAY:
@you_found_nimmo ...Got a storm named after you?! Sweet, welcome to New York.

— Curt Hawkins (@TheCurtHawkins) February 8, 2013
YOU'RE UP: Whom would you prefer make the roster as an outfielder: Marlon Byrd, Andrew Brown or Zach Lutz?
Please use the comments section to weigh in