PORT ST. LUCIE, Fla. -- Even After Kirk Niewenhuis partially tore the plantar fascia in his right foot running to first base in an Aug. 3 game with Triple-A Buffalo, Mets officials eyed a return to the majors in September, after rosters expanded. So did Nieuwenhuis.
Nieuwenhuis' right foot did not cooperate, though. And after bidding for a return into September at the Mets' Florida complex, Nieuwenhuis was forced to shut things down for the winter without reappearing in the majors.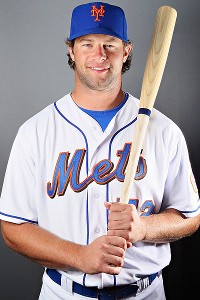 Elsa/Getty Images
Kirk Nieuwenhuis
"When I went back to the doctor toward the end of August, it kind of caught me off guard," Nieuwenhuis said. "He was like, 'These things take a lot of time when you're running. You can do other things pretty well.'
"I was walking around fine. I just wasn't able to run. I was able to do everything. Hitting. Nothing bothered it. Just running. I pushed it as hard as I could. I tried everything. I must have tried three or four different orthotics -- anything-and-everything kind of treatment to make it tolerable. But it just never got to that point. I just kind of ran out of time. It was tough. It was slower than I thought it was going to be to heal, for sure. I thought it was going to be a few weeks and right back at it."
The lefty-hitting Nieuwenhuis is fine now, and will not even require wearing an orthotic.
Nieuwenhuis, 25, is projected to open the season platooning in center field with righty-hitting Collin Cowgill.
Both players already are in Port St. Lucie more than a week ahead of the Feb. 18 official report date for position players. Nieuwenhuis participated in workouts last week. Cowgill arrived Sunday.
Of course, if Michael Bourn signed with the Mets, that could dramatically affect Niewenhuis' playing time -- potentially even pushing him to Triple-A Las Vegas.
"I briefly played against Michael. He's a great player," said Nieuwenhuis, who hit .252 with seven homers and 28 RBIs in 282 at-bats with the Mets last season. "You can't really let something like that affect how you prepare for a spring training. My preparation is going to be the same either way. I'm going to go out there, just like I do every single year, and just try to help this team win ballgames."
Nieuwenhuis hit only .115 and struck out 30 times in his final 61 at-bats before getting demoted in late July.
Overall, his 98 strikeouts in 282 at-bats represented the highest K rate in franchise history for a player with at least 300 plate appearances in a season. His strikeout every 2.8776 at-bats comfortably exceeded the franchise's former record holder: Dave Kingman, who struck out every 3.2810 at-bats while slugging 36 homers in 1975.
Because Nieuwenhuis' injury occurred in the minors, he did not get any major league service time while sidelined the final two months of last season.
"I think I got into a big funk last year," Nieuwenhuis said. "And it was tough to get out of. In July, even in June, I really didn't feel good. I think it was half mental and half physical. Most of the time when you get in ruts like that, it's all mental. Taking a look back at my swing, it was physical, too. So I made some adjustments in that area."
Nieuwenhuis, a former Division I recruit as a football player, did prove he can handle center field at the major league level despite his size.
His UZR/150 rating -- defined by FanGraphs as "the number of runs above or below average a fielder is in both range runs, outfield arm runs, double play runs and error runs combined" -- was a relatively neutral -2.5 last season. By contrast, Jason Bay was -4.8, Scott Hairston -4.9 and Lucas Duda -33.0.
"I felt good out there," Nieuwenhuis said. "It was a big adjustment going from the minor leagues to the big leagues, for sure, as far as defense goes -- just the stadium, the atmosphere. Even in like Pittsburgh, there weren't that many people there, but [Mike] Baxter and I just couldn't hear each other. So you have to make certain adjustments that you don't really talk about in Triple-A."