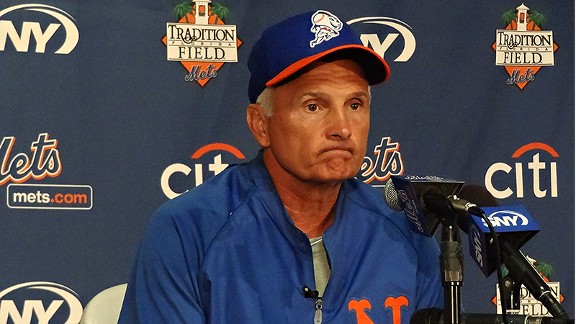 Adam Rubin
Terry Collins offered his state-of-the-team address Tuesday afternoon at Tradition Field.
PORT ST. LUCIE, Fla. -- Terry Collins gave his state-of-the-Mets press conference on Tuesday afternoon. Here are the highlights:
• Pedro Feliciano has a leg up to join Josh Edgin as the second lefty in the bullpen if Feliciano shows anything like he did his last tenure with the Mets. Otherwise, southpaw Scott Rice would get a strong look. Robert Carson and Aaron Laffey (who can handle multiple innings) would be other considerations.
• Because Lucas Duda is virtually locked into left field and right field could be manned at least part time by an unaccomplished outfielder too (Zach Lutz, Justin Turner, etc.), a center fielder who can cover a ton of ground is the priority. Kirk Nieuwenhuis and Collin Cowgill look like the likely platoon, but Marlon Byrd and Jamie Hoffmann will get looks in spring training as well in center field.
Collins said one goal of Turner's outfield exposure is to get him more at-bats. "He can hit," the manager said.
As for Lutz, Collins said no one is a bigger home-run threat in the Mets' minor league system.
Collins said Hoffmann is an under-the-radar consideration, who can "really run." Hoffmann hit .254 with 11 homers in 366 at-bats with Triple-A Norfolk last season, but Collins said Hoffmann was negatively affected for much of the year by a virus he contracted while playing winter ball the previous offseason.
On Duda, Collins said: "Outside of [Giancarlo] Mike Stanton, this guy is the biggest, strongest guy in the league." Collins told Duda if he can hit .275, he'll run into 35 homers.
• Ruben Tejada is a candidate to lead off. A platoon of Mike Baxter and Cowgill in the No. 1 spot is also a plausible scenario.
Collins said he would not have any stolen base goals for Tejada. The priority merely would be to get on base. Collins said Tejada's knack for having 12-, 13- and 14-pitch at-bats would be ideal for a leadoff hitter because it would let the batters behind him see an opposing pitcher's entire arsenal.
• Zack Wheeler is ticketed for Triple-A unless an injury or something else unforeseeable dislodges one of the five intended starting pitchers. If there were an injury, Wheeler along with Jeremy Hefner, Jenrry Mejia and Laffey would get the most consideration to plug the spot.
• Collins is unsure when Mejia's visa issue will be resolved and he will report.
• Collins wants the team's baserunners to do a better job going first to third this season.
• Jordany Valdespin had a strong winter ball that pleased Collins, including walking at a good rate during the latter half, which the organization wanted to see.
• Collins minimized the importance of Michael Bourn landing with the Cleveland Indians, not the Mets, saying he's solely concerned with the players in camp.
• The Mets' team-building weekly bowling event for players and staff will return this spring training.
• With the departure of R.A. Dickey, Collins said the starting staff needs to absorb about 60 extra innings to avoid overtaxing the bullpen. Collins said it is time for Jonathon Niese to step up and absorb much of Dickey's lost innings.
• Matt Harvey will not be on an innings cont. Because Harvey tossed 170 innings last season, he can be allowed to reach roughly 205 innings this season without issue.
• Collins said he is unconcerned about being in the final year of a contract. He noted Hall of Famer Walter Alston managed 23 years as a lame duck.