PORT ST. LUCIE, Fla. -- Right-handed reliever Brandon Lyon checked in at Mets camp this week and recognized one very familiar face. Lyon grew up with catcher John Buck in Utah. They won a state title together when Lyon was a junior and Buck a sophomore at Taylorsville High.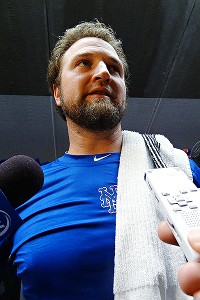 Adam Rubin
Brandon Lyon speaks to the media Tuesday in Port St. Lucie.
"We played together. We hung out together," said Lyon, who had a 3.10 ERA in 67 relief appearances with the Houston Astros and Toronto Blue Jays last season "We've been playing together since we were, shoot, nine or 10 years old. It's been cool to watch his career take off. To just finally be able to put on the same uniform as him again is awesome."
Lyon had a $750,000 base salary and can earn up to $2.3 million with incentives. (See breakdown here.)
He was one of only two major league contracts handed out by Sandy Alderson this winter to free agents. The other went to Shaun Marcum.
"The opportunity is here," Lyon said about selecting the Mets.
Lyon had a career-high 26 saves in 2008 with the Arizona Diamondbacks and 20 saves two years later with Houston. Does he have closing ambition again in his career?
(Terry Collins already has indicated Bobby Parnell would assume the role if Frank Francisco was not ready for the beginning of the season.)
"I'm not really saying, 'Hey, I want to be the closer.' Nothing like that," Lyon said. "That's not where I'm at. That's never been my idea as a player. I just want to go out and help the team win. I let the other people decide."
As for not officially signing until last week, Lyon said: "It always works out for you and happens for a reason and stuff like that. I wasn't too worried about it. Obviously I was getting a little antsy. I just wanted to get some direction where I was going and what to look forward to. I'm here and I'm ready to go and I'm excited."