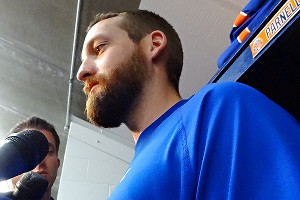 Adam Rubin
Bobby Parnell discusses being the closer alternative to Frank Francisco.
PORT ST. LUCIE, Fla. -- Terry Collins phoned Bobby Parnell on Tuesday night to inform him what the manager had already let leak out: If Frank Francisco's elbow does not allow him to be ready for the start of the season, Parnell will handle closing duty for the Mets.
Parnell said the call did not catch him by surprise.
"I'm prepared for anything at this point," Parnell said.
Francisco currently is not cleared to throw a baseball, even on flat ground, because of swelling in the elbow he had surgically cleaned in December.
So Mets fans may hear Parnell's entry music -- Jake Owen's "Eight Second Ride" -- blaring from the P.A. system at Citi Field if the Mets have a lead entering the ninth inning on April 1 against the San Diego Padres.
(Parnell lightheartedly said he'll probably be "too lazy" to come up with a new song choice for 2013.)
Read the full news story here.