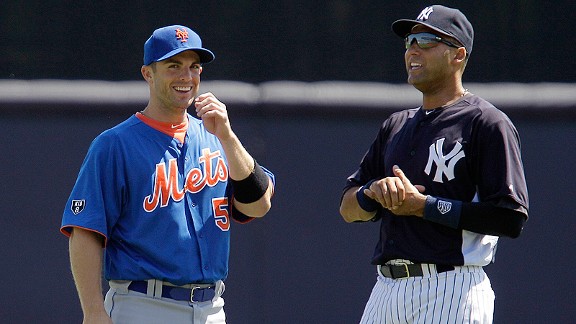 Kathy Willens/Associated Press
David Wright is the Mets' Derek Jeter, according to Fred Wilpon.
PORT ST. LUCIE, Fla. -- David Wright said he appreciates Fred Wilpon calling him the Mets' Derek Jeter, but the compliment may be at least a tad undeserving.
"In my eyes, that's the ultimate compliment," Wright told ESPNNewYork.com. "I think it's somewhat undeserving. But it's humbling to be mentioned in the same sentence with him. I understand the rivalry within New York. At the same time, I don't think you can give a player a bigger compliment.
"The résumé kind of speaks for itself as far as what he's done on the field. And, most importantly, he's got a handful of rings. Literally, a handful. I think that's most important. All in all, like I said, it's a tremendous compliment. I can't think of a bigger compliment."
Read the full news story here.