PORT ST. LUCIE, Fla. -- His visa issue resolved and identity confirmed, Jenrry Mejia arrived the Mets' complex Friday, ready for pitching duty.
"I feel pretty good," Mejia said about arriving.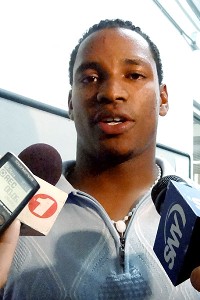 Adam Rubin
Jenrry Mejia speaks at Mets camp on Friday.
The Mets have portrayed Mejia's delay as a random additional screening. His age and identity were scrutinized and he was cleared to enter the United States.
"The consulate, they had to make an investigation," Mejia said. "I don't know why they made it. I had to wait."
Mejia said he was "a little" frustrated, but it was lessened because he was able to work out at the Mets' complex in his native Dominican Republic. Pitching coach Dan Warthen said Mejia may be ahead of other pitchers because of his work at the Boca Chica academy.
Mejia noted this is the second time he has been given extra scrutiny when applying for a visa.
"They did it twice," he said. "I can't do anything about it."
Meanwhile, Mejia said he is glad he will be used as a starting pitcher ove relief.
"I like that," he said. "You know that."
The bottom line: He really is Jenrry Mejia, age 23.
"Yes I am," he said with a laugh. "That's my name."