PORT ST. LUCIE, Fla. -- John Buck and David Wright sensed Zack Wheeler was amped up for his Grapefruit League debut. So they approached Wheeler on the mound after the right-hander walked his first Washington Nationals batter, then yanked a wild pitch to fellow phenom Bryce Harper.
"I asked him, 'You a little amped up? Is your heart beating,'" Buck recalled afterward. "He kind of chuckled and said, 'Yeah, just a little.' I was like, 'You should be.' It was kind of funny. He was a little shocked I asked right in the middle of an intense moment. …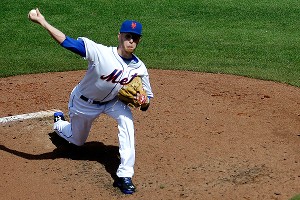 Julio Cortez/Associated Press
Zack Wheeler pitches during his Grapefruit League debut Saturday.
"After that, he started locating. He buckled right down. And I think it was back to normal."
Wheeler, pitching in relief of Shaun Marcum, ultimately limited the Nats to one walk and one hit -- a two-out single by Chris Snyder in the fourth.
He struck out two in two scoreless innings. He retired Harper on a groundout to shortstop in the third and ultimately stranded Steve Lombardozzi at third base that inning after the leadoff walk by striking out Chad Tracy.
Wheeler's velocity ranged from 94-96 mph. He threw 30 pitches (19 strikes).
"There wasn't really nerves," Wheeler said. "I was just a little pumped up going out there. After I got settled down, after the first couple of batters, I think everything went well. I was getting underneath my slider a little bit. It was backing up. But I still got some swings and misses off of it."
As for facing the ballyhooed Harper, Wheeler said: "I mean, you know who's up there. I pitch everybody the same, really, mentally. It really doesn't bother me."
Matt Harvey, who found himself in a similar position last spring training, watched Wheeler live for the first time Saturday.
"The ball explodes out of his hand," Harvey said. "Everybody saw the scoreboard, and you see 95, 96 mph. He keeps the ball down. You could see in that last inning he got a lot of groundballs. Obviously you can tell the timing is a little off. It's only, what, Feb. 23? The sky's the limit for him, for sure."
As for Wheeler's quiet clubhouse demeanor, Harvey added: "He's a young guy coming in. I am, too. You try to watch Johan [Santana], you try to watch David and see how the clubhouse is run. When somebody talks to you, you can talk back. That's kind of how I was last year. He's not antisocial by any means. He's starting to break in a little bit and come around and start messing with the guys a little bit. He's a good teammate. Like I said, the sky's the limit."
Harper thought he might have faced Wheeler in the Arizona Fall League two years ago, but was unsure.
"Never been there," Wheeler said. "Wasn't me."
Said Harper: "He's got some good stuff, definitely. He's exciting to watch, too. They've got Harvey and him, two young guys that can really pitch and throw hard and have pretty good secondary stuff. It was good to face a guy like that today."
Said Buck: "He's got that type of fastball where he doesn't put a lot of effort into it. It's just simple and easy. It's got that extra little oomph, forward movement, or whatever you want to call it. It jumps on you, which makes it so if he makes a mistake, sometimes guys are going to miss it."