PORT ST. LUCIE, Fla.
FIRST PITCH: The Mets can sleep in Monday before continuing Grapefruit League play with a 6:10 p.m. game at Tradition Field against the Washington Nationals.
Collin McHugh, Gonzalez Germen, Scott Rice, Elvin Ramirez and Greg Burke are due to pitch for the Mets. Gio Gonzalez starts for the Nats, who already have listed this batting order:
Eury Perez, cf
Steve Lombardozzi, 2b
Corey Brown, rf
Tyler Moore, dh
Chris Marrero, 1b
Carlos Rivero, lf
Matt Skole, 3b
Chris Snyder, c
Zach Walters, ss
(See Nats' full travel roster here.)
Monday's news reports:
• Josh Kosman in the Post reports the Mets again will lose money this season. Writes Kosman:
The team is expecting to lose more than $10 million this year, after bleeding red the past two seasons, while attendance is projected to fall for a fifth straight year, The Post has learned.
The owners can expect to take about $65 million from separately owned SportsNet New York cable network, which airs Mets games. However, Citi Field saps $43 million in debt payments, leaving a net gain of $22 million from those two assets. That means there won't be much left to sink into the ballclub. …
The team should have more financial freedom next year, when some $50 million in payroll comes off the books, thanks to expiring contracts with Johan Santana, Jason Bay and Frank Francisco, although Bay will continue to receive deferred payments.
However, the Mets have paid only some of the $320 million in principal due lenders in 2014, making next year's talks potentially tense if the Mets do not hit their own not-so-rosy projections, the source said.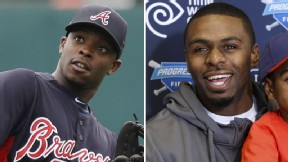 Associated Press
The Mets miscalcuated in their bid to acquire Justin Upton or Michael Bourn.
• John Harper in the Daily News says the Mets pitched trading Daniel Murphy or Ruben Tejada to the Arizona Diamondbacks for Justin Upton late in the offseason. As for the draft-pick issue with Michael Bourn, Harper reported the Mets received a favorable initial reaction from MLB about getting the No. 11 draft pick protected, but other teams began to complain when the Mets' desire became public. MLB then changed its stance.
• Pedro Feliciano will be held out from baseball activity for two weeks while he wears a monitor that will allow team doctors to gauge the severity of his heart issue.
Feliciano is in camp on a minor league contract. While of secondary importance to Feliciano's health, the inactivity could make it difficult for the southpaw to make the Opening Day roster.
If he fails to do so, the Mets may just carry one left-hander in the bullpen, Josh Edgin. That's because the Mets should have a serious 40-man roster crunch at the end of spring training, so it would be easier to carry an extra righty reliever already on the 40 from a group that includes Burke, Jeurys Familia and Jeremy Hefner.
"When I come back I hope I pitch good, surprise everybody and make the team," Feliciano told reporters Sunday.
Read more on Feliciano's health situation in the Post, Times, Daily News, Star-Ledger and MLB.com.
• Matt Harvey and Travis d'Arnaud served as a battery for the first time as the Mets and Astros tied, 7-7, in a nine-inning Grapefruit League game Sunday in Kissimmee, Fla. Jamie Hoffmann and Jordany Valdespin homered for the Mets. Edgin suffered a blown save in the ninth, but rallied to strand the bases loaded and preserve a tie.
Read more on d'Arnaud and Harvey in the Post, Newsday, Record, Daily News, Times and Star-Ledger.

Duda • Lucas Duda, who is adjusting his routine at the plate, struck out in all four plate appearances against the Astros and is now 0-for-7 with six strikeouts in Grapefruit League play. Terry Collins said Duda is getting caught with his front foot still in the air as the ball reaches the plate. Read more in the Record and Star-Ledger.
• In the other split-squad game, the Mets beat the University of Michigan, 5-2. Wilmer Flores homered. Dillon Gee pitched for the first time since emergency surgery at last year's All-Star break to repair a damaged artery in his pitching shoulder that was causing numbness in his arm. Jonathon Niese and prospect Rafael Montero also tossed two innings apiece.
• Noah Syndergaard, the right-handed pitching prospect acquired from the Toronto Blue Jays along with d'Arnaud in the R.A. Dickey trade, has reported to the complex for the Mets' camp for top prospects. Syndergaard threw his first bullpen session as a member of the organization and admitted to being nervous with team personnel, his parents and plenty of media watching.
"Just being traded for a Cy Young Award winner has put a little nerves on me," Syndergaard told reporters. "I'm sure after the first week I'll be fine.''
Read more on Syndergaard and the organization's younger arms in Newsday, the Post and MLB.com.
• Andrew Keh in the Times goes fishing with the Mets, which plenty of players do to kill time during spring training. "It's Port St. Lucie. It's about the only thing there is to do," Bobby Parnell tells Keh, who also writes:
Once, while playing for the St. Lucie Mets, [Ike] Davis and [Reese] Havens were climbing out of their two-man boat when they were confronted on the bank by a water moccasin, a venomous snake. "He wasn't backing off, and he started coming at us," Davis said. "We had an oar with us. He tried to get on the boat, and we hit him off. That was pretty freaky."
• Jared Diamond in the Journal suggests naming David Wright captain is unnecessary since he already is the de facto leader, without the formal title. Writes Diamond:
Making Wright captain would allow the Mets to hold a news conference, jam dozens of television cameras into Citi Field for a formal announcement, and generate some goodwill before what could deteriorate into another losing season. It would allow them to plaster a "C" on Wright's uniform so they could sell replica jerseys and T-shirts.
In the clubhouse, where it matters, naming Wright captain would change nothing. The designation alone wouldn't transform him into a better leader. Keith Hernandez, one of the three captains in Mets history, called it strictly an "honorary position."
• From the bloggers … Metsmerized Online is concerned the work-in-progress Duda is the Mets' longest-tenured outfielder and most experienced, too. … Faith and Fear unspools its annual "In Mets-moriam" reel to remember, Oscars-style, those players who have left the organization during the past year. … At Mets Police, Mike V's Countdown to Opening Day continues with 2008: Shea Stadium's last home opener, when $35 got you in the upper deck.
BIRTHDAYS: Ed Lynch, who went on to become general manager of the Chicago Cubs, turns 57.
TWEET OF THE DAY:
Just another victory at the lanes!!!! #domination#I'llRollOnShabbos

— Justin Turner (@redturn2) February 25, 2013
YOU'RE UP: Do you believe the Mets' money woes are behind them?
Please use the comments section to weigh in