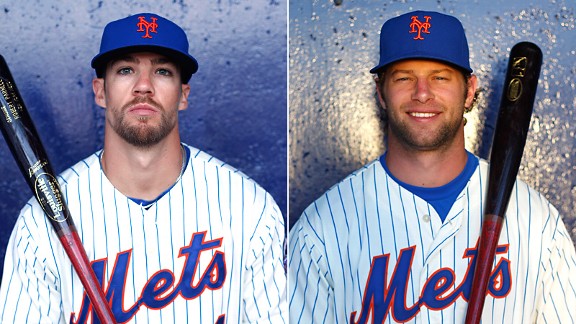 Chris Trotman/Getty Images
Collin Cowgill and Kirk Nieuwenhuis may platoon in center field and the leadoff spot for the Mets.
PORT ST. LUCIE, Fla. -- If lefty-hitting Kirk Nieuwenhuis and righty-hitting Collin Cowgill will be platooning in center field, Terry Collins figures it would be logical to consider them as a platoon for the leadoff spot, too. So Collins wants to take a look at Cowgill leading off on Monday night against Washington Nationals left-hander Gio Gonzalez.
Cowgill, acquired from the Oakland Athletics on Dec. 18 for Jefry Marte, is making a favorable early impression with his hustle. He scored from second on a groundball to first base in Saturday's Grapefruit League opener.
Cowgill started three games in the leadoff spot last season with the A's. He also appeared in 19 games in the leadoff spot with Triple-A Sacramento in 2012.
"I hadn't seen enough of him to make a legitimate call on what kind of leadoff hitter he's going to be," Collins said. "He's a real aggressive swinger. I think he's got some power in that leadoff spot. But he's an aggressive guy on the bases, which is a key thing when the guy gets on. Not that he's going to be a huge base stealer, but he is the guy that we know can go first to third and create some action."