PORT ST. LUCIE, Fla.
FIRST PITCH: Zack Wheeler, who tossed two scoreless innings against the Washington Nationals in his Grapefruit League debut, gets the start against the St. Louis Cardinals at 1:10 p.m. today at Tradition Field.
The Mets thought enough of Wheeler's showing against the Nats that they favorably compared his pitching data during the weekend performance to Stephen Strasburg's metrics in the same game.
Today, Wheeler will oppose right-hander Lance Lynn. Also scheduled to pitch for the Mets: Darin Gorski, Bobby Parnell, Greg Burke and Carlos Torres.
"The guy is pretty quiet," Jonathon Niese says about Wheeler. "He's kind of got that quiet confidence about him, which is really good. Obviously his stuff is really good.
"There's a lot of talent. Obviously, [Matt] Harvey and Wheeler, they're two guys in the upper 90s. As a starter, that's pretty impressive."
On Thursday night in Viera, the Mets will see Strasburg for a second this spring training, opposite Rafael Montero.
Justin Verlander and the Detroit Tigers visit Port St. Lucie on Friday. Niese gets that start for the Mets.
Harvey pitches Saturday.
Wednesday's news reports: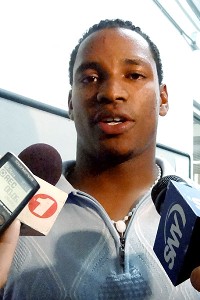 Adam Rubin
Jenrry Mejia surrendered a grand slam in a five-run first inning Tuesday.
• Jenrry Mejia allowed a grand slam to Casey Kotchman in a five-run first and Hansel Robles allowed a pair of solo homers as the Marlins beat the Mets, 7-5, Tuesday afternoon. Mejia primarily would be competing with Jeremy Hefner -- with Collin McHugh and Wheeler also in the consideration set -- if Johan Santana were not ready for Opening Day. Still, the most likely scenario has Mejia opening the season in Triple-A Las Vegas' rotation. Read more in Newsday, the Star-Ledger, Post, Daily News, Record and MLB.com.
• Terry Collins said Ruben Tejada, who was scratched from Monday's game, has seen improvement with his injured right quadriceps and will start today's game. Read more in the Post.
• David Wright is due to start at third base Wednesday, in his second-to-last game before departing for the World Baseball Classic. Collins has started to poll veterans about making Wright the captain before Opening Day.
• LaTroy Hawkins has yet to appear in a spring-training game, but pitching coach Dan Warthen says the 40-year-old reliever is just taking his time with this year's spring training especially long because of the World Baseball Classic.
• Right-handed pitching prospect Erik Goeddel was struck in the face with a baseball and may be facing surgery.
• Marc Carig in Newsday profiles Wilmer Flores, who may have 20-homer potential in the majors, but still must find a position. Flores, originally a shortstop, now has settled into playing second and third base. The Mets say they will not dabble with Flores -- who is slow-footed, at least with his first step -- in the outfield. Read more in the Times.
• Kevin Kernan in the Post profiles Burke, including discussing the influence of Rick Peterson on the right-hander's recently adopted submarine-style delivery.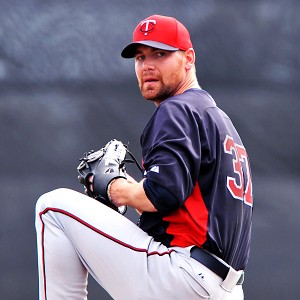 Al Messerschmidt/Getty Images
Mike Pelfrey made his Grapefruit League debut with the Twins on Tuesday.
• Mike Pelfrey had a rough Grapefruit League debut with the Minnesota Twins. Pelfrey, in his first game since Tommy John surgery, allowed three runs and five hits in 1 2/3 innings against the Toronto Blue Jays. Wrote Phil Miller in the Minneapolis Star-Tribune about Pelfrey's mound exit:
When manager Ron Gardenhire walked to the mound to remove him after 10 hitters -- five of whom got hits -- the 6-foot-7 pitcher hesitated. "When I was with the Mets, we always waited for the reliever, and handed him the ball," Pelfrey said and laughed. "I said, 'Do you want the ball?' He said, 'You're bigger than me, you let me know.' "
• Cory Mazzoni, a former second-round pick from NC State, has now tossed five scoreless Grapefruit League innings. Read more at MLB.com.
• Niese aims to represent the Mets at this year's All-Star Game at Citi Field, writes Marty Noble at MLB.com.
• Marlins owner Jeffrey Loria's PR campaign to spin the team's offseason fire sale is not being met with rave reviews. Read more in the Star-Ledger.
• Columnist John Harper in the Daily News chats with Travis d'Arnaud. Collins tells Harper the Mets will not let d'Arnaud block the plate for now to avoid injury risk, although that could change once he reaches the majors. "He's the future," Collins said. "So we're going to be smart about this. When he gets to the big leagues, things may change, but right now let's let him get to the big leagues. The thing is, catchers with his offensive potential, they're hard to find."
• The Mets are trying to get former Pennsylvania high school wrestler Josh Edgin to pitch to contact rather than try to strike everyone out, writes Kristie Ackert in the Daily News.
• From the bloggers … At Mets Police, Shannon is pleased with the way the Mets are dressing this spring. … Rising Apple considers whether the Mets can compete with a $90 million payroll in 2014. … Faith and Fear in Flushing realizes the Mets have been training in Port St. Lucie as many springs and they did in St. Petersburg, and notices how the pace has changed.
BIRTHDAYS: Longtime Atlanta Braves right-hander Pete Smith, who started 21 games for the Mets in 1994 after being acquired for Dave Gallagher, turns 47.
TWEET OF THE DAY:
@you_found_nimmo with some textbook form #gutterball twitter.com/kplawecki26/st…

— Kevin Plawecki (@kplawecki26) February 27, 2013
YOU'RE UP: Is Zack Wheeler getting too much hype?
Please use the comments section to weigh in