PORT ST. LUCIE, Fla. -- John Buck had a two-run homer and Anthony Recker and Collin Cowgill contributed solo shots, but the Mets lost to the St. Louis Cardinals, 12-4, Wednesday at Tradition Field.
Game tidbits:
SUB TEXT: Starting in place of scratched Zack Wheeler (oblique), left-hander Darin Gorski contributed two scoreless innings before running into trouble in the third.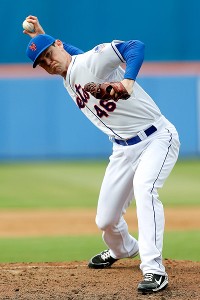 Chris Trotman/Getty Images
Greg Burke tossed a scoreless seventh, but surrendered three runs the following frame.
Carlos Beltran contributed a two-run double when center fielder Matt den Dekker, who made a highlight-reel grab Monday to take away a homer, this time narrowly missed a diving catch. The ball went off den Dekker's glove in left-center.
Gorski tossed 49 pitches and was pulled without recording an out in the third, and with the score 2-2.
Former Colorado Rockies right-hander Carlos Torres entered and issued a walk to load the bases. He then coaxed a fly ball to right field from Yadier Molina, which Marlon Byrd charged but dropped. Byrd regrouped and got a forceout at second base as the go-ahead run scored.
Torres then surrendered another run charged to Gorski as the Cardinals took a 4-2 lead. St. Louis put up four more runs against Torres in the fourth.
Gorski said he needed to be more aggressive in the strike zone and possess better fastball command.
As for starting instead of Wheeler, Gorski said, referring to the spectators: "I'm sure a few people were surprised."
BABY STEPS: Lucas Duda, who was given two days off to work in a batting cage, had a groundball single in his first at-bat, struck out his next plate appearance and finished 1-for-3.
Terry Collins said Duda will again work in the batting cage Thursday. He then should play the following day against Justin Verlander and the Detroit Tigers in Port St. Lucie.
Duda had been 0-for-7 with six strikeouts entering today.
"The first time up you saw a more compact swing. Even the last time up, even though he hit the fly ball to left field, I thought he took a good swing at it," Collins said. "The second time up he got open a little bit too early. But he's made big strides. He says he's feeling a lot better."
OUCH: Robert Carson was drilled with a comebacker in his left calf, but said he was fine. Carson surrendered a solo homer to Shane Robinson later in the frame.
HE'S BACK: Ruben Tejada, scratched from Monday's game, reentered the lineup and played five innings at shortstop before being replaced by Omar Quintanilla. Tejada described his right quadriceps muscle as "OK" afterward.
WORLD STAGE LOOMS: David Wright singled in each of his first two at-bats and finished 2-for-3 in his second-to-last tune-up before departing Saturday for the World Baseball Classic. Wright's final game with the Mets before the tournament will be Friday against Detroit. Wright said he will ask Collins if it's OK for him to play third base rather than DH in that game.
E-3: Infielder Brandon Hicks, this time manning third base, picked up his third error in three Grapefruit League games.