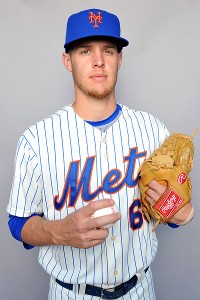 Steve Mitchell/USA TODAY Sports
Zack Wheeler may be back in a game in eight days.PORT ST. LUCIE, Fla. -- Pitcher Zack Wheeler's absence from game action with a mild strain of his right oblique muscle may be only about a week.
Manager Terry Collins told ESPNNewYork.com on Thursday afternoon that Wheeler's injury is "not very bad."
The hope is to get Wheeler back on a bullpen mound in five days, with the top prospect pitching in a game again three days after that session.
Wheeler was scratched from Wednesday's game against the St. Louis Cardinals after injuring himself swinging in a batting cage pregame.
"He's feeling better today," Collins said. "He actually did some motion exercises where they kind of triggered a spot. Where he throws, he doesn't feel it -- when he makes that movement. It's the movement in the opposite direction where he can sense it. So [trainer] Ray [Ramirez] said hopefully in three to five days we'll have a real good read on where he's at. If it's fine, he can at least get a bullpen in and we'll monitor where he is from there."