VIERA, Fla. -- Rafael Montero moved to Santo Domingo, the capital of the Dominican Republic, as a 17-year-old and got serious about baseball.
Three years later, he signed with the Mets in 2011.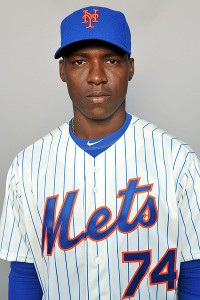 Steve Mitchell/USA TODAY Sports
Rafael Montero made his Grapefruit League debut Thursday night.
Thursday night, the 22-year-old right-hander made his Grapefruit League debut against a good portion of the Washington Nationals' Opening Day lineup.
Montero -- the Mets' organizational pitcher of the year in 2011 for his performances at Class A Savannah and St. Lucie last season (11-5, 2.36 ERA) -- surrendered one run on three hits in two innings against the Nats at Space Coast Stadium.
He appeared unfazed by the stage during a 41-pitch effort.
The Mets and Nats finished in a 4-all tie after 10 innings.
Montero allowed a leadoff double to Denard Span in the first inning, but consecutively retired Kurt Suzuki, Jayson Werth and Adam LaRoche to strand Span at second. An inning later, Danny Espinosa produced a one-out double and scored on Nats top prospect Anthony Rendon's double.
Montero identified his fastball as his top pitch. Catcher Travis d'Arnaud agreed.
"I believe so, just because he can locate it to either side of the plate -- any count," d'Arnaud said. "
Montero throws a sinker, slider and changeup.
"He executed all of his pitches," d'Arnaud said. "He has a game plan out there. He's got phenomenal stuff. He keeps the ball down and he's got three great pitches. He seemed really comfortable. … He had a phenomenal breaking ball, too. He kept it down and he had a good, sharp angle on it. It's a real hard pitch to hit."
Said Terry Collins: "He's got a good arm. I like the fact that he really pounds the strike zone with his stuff. Great poise on the mound. Great demeanor. Pretty impressive."
Game tidbits:
• Matt den Dekker singled, stole a base and scored on a wild pitch in the seventh as the Mets pulled even at 4.
• Jeremy Hefner completed the game with 2 1/3 scoreless relief innings.
• In his second meeting with the Mets, Stephen Strasburg tossed three innings. He allowed only a Mike Baxter sacrifice fly that scored Jordany Valdespin.
Strasburg's line: 3 IP, 3 H, 1 ER, 2 BB, 6 K. He threw 52 pitches (30 strikes).
• Brandon Lyon allowed one run in one inning. Josh Edgin allowed an unearned run in two innings.
• Collin Cowgill went 2-for-4. He's 6-for-11 with a homer and two walks in Grapefruit play.
• Omar Quintanilla (.429) contributed an RBI double against Zach Duke in the fourth inning.
• Elvin Ramirez issued a bases-loaded walk in the sixth that had given the Nats a 4-3 lead.