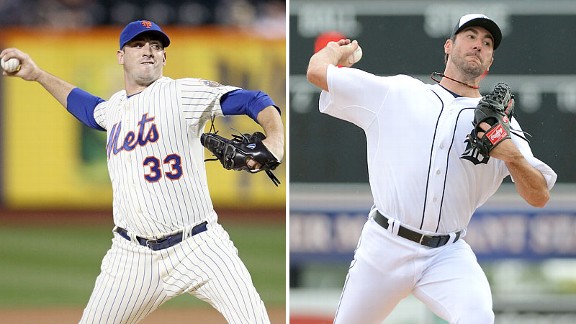 Getty Images
Matt Harvey scrutinized Justin Verlander's performance Friday.
PORT ST. LUCIE, Fla. -- Matt Harvey paid special attention to Justin Verlander as the Detroit Tigers ace tossed three perfect Grapefruit League innings against the Mets on Friday.
"He's one of the best," Harvey said. "So me being a person that wants to be the best, you watch something like that. …
"He throws 230-plus innings a year. Obviously he's doing something right. I wanted to watch what he does in preparation and try to emulate someone like that."
#33 SP
New York Mets
2012 STATS
Saturday, Harvey surrendered a leadoff homer to Christian Yelich, the Miami Marlins' two-time minor league player of the year, but no other damage in 2 2/3 innings.
Harvey tossed 49 pitches while allowing three hits and a walk. He struck out four in his second Grapefruit League appearance. He departed with two runners on base. Collin McHugh stranded both by coaxing Matt Downs into a flyout to center field.
"Last year, coming up to the big leagues, I didn't have my curveball all that often," Harvey said. "That was really something I wanted to start throwing a lot more. It's almost right where I want it. I threw a lot of really good ones today, and didn't really feel like I threw a lot of bad ones. That's definitely a big plus for me."
What did Harvey observe while scrutinizing Verlander on Friday?
He particularly noticed Verlander's warm-up routine.
"Obviously everyone sees midseason how he's throwing 100 [mph], but it looked like he was kind of playing a game out there, which was pretty nice to watch," Harvey said. "I think he was throwing -- what? -- 91, 93 or 94. It's funny to watch him throw when he's got that 100 in his back pocket. He's got a lot more time than I do obviously, so he can play around with a lot more things than I can. It's fun to watch."
Harvey said he did not get a chance to chat with Verlander when the ace made the visit to Port St. Lucie. But Terry Collins , who is close with Tigers manager Jim Leyland, indicated he'd like to make a conversation happen.
"Hopefully I'll chew his brain a little bit down the road," Harvey said. "I just sat back and watched."
Harvey aims to reach 200 innings this season. He got to 169 1/3 innings last season between Triple-A and the majors before the Mets shut him down after a Sept. 19 start to guard against too large an innings jump from 2011.
"You look back at all the top pitchers and they're workhorses. They're going 200-plus innings," Harvey said. "Obviously with [R.A.] Dickey last year he went 230 innings. That's the goal for all of us pitchers; 200-plus innings is the best mark. You can't set goals for anything, realistically, other than staying healthy and going 200-plus innings. The rest will take care of itself.
"It's the one and only goal for me. That's 200 innings. If you're doing that at 30 starts a season, you're going deep into games, and that's a pretty successful season."