PORT ST. LUCIE, Fla. – A half-inning after being charged with two errors while manning second base, Brian Bixler delivered a game-tying two-run homer in the bottom of the eighth. That score held as the Mets and Miami Marlins played to an 8-8, nine-inning tie Saturday at Tradition Field.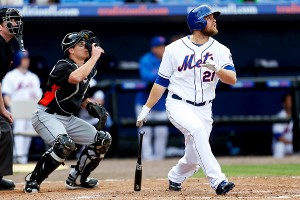 Chris Trotman/Getty Images
Lucas Duda homers in the sixth inning.
Game tidbits:
DUDE! After a slow start to Grapefruit League play with an adjusted stance, Lucas Duda had a leadoff double to left-center in the fifth against right-hander Chris Hatcher. Duda then homered against left-hander Mike Dunn the following inning.
Duda had been held out of action earlier in the week to regroup after striking out in six of his first seven Grapefruit League at-bats.
"I salute him, the fact that he finally said, 'Look, I'm not ready to play,'" Collins said about a conversation earlier this week. "He would have gone out there and gone out there and gone out there had we not addressed it.
"For him, today he might walk in that locker room and say, 'Yeah, I think I'm going to be OK.'"
Collins particularly was enthused by Duda's opposite-field double.
"That, to me, is one of the big hits he got," Collins said. "We all know he's got the power. The home run was just added. But that ball to left-center field, if he can continue to do that, he's going to be dangerous."
HARVEY SHOW: Matt Harvey allowed a leadoff homer to Chris Yelich but no other damage in 2 2/3 innings.
OUCH: Prospect Hansel Robles surrendered five runs in 1 2/3 innings to lift his Grapefruit League ERA to 17.18.